Anthony Joshua is refusing to look beyond his world heavyweight title unification fight with Joseph Parker on Saturday.
The WBO, WBA and IBF titles are on the line at the Principality Stadium in Cardiff as both fighters protect an unbeaten record.
There has been talk of a future fight with Deontay Wilder, but Joshua is only focused on business in Cardiff.
"It's one fight at a time, a lot of talk has been happening about AJ-Deontay," Joshua said at the pair's final press conference in London.
"People need to be realistic. For now my future stops on Saturday and that is where I have got to look to.
"I feel like every fight is a blessing, whether it is Joseph Parker sitting here or X, I feel every fight has a reason in the long run.
"It's Parker and it's a blessing. He's a champion, he has done well for himself. I am looking forward to Saturday and it will all be over on Sunday and I will learn from it."
"He is quick and he can take a punch but that is what I have heard, so I am repeating what people are saying," Joshua added.
"You've got two sides of it. I am definitely prepared for a 12-round fight, which isn't a problem. Let's say I've got £20 in my pocket, looking at myself I believe Anthony Joshua knocks out Joseph Parker, for sure."
Parker insists he is taking the belts back to New Zealand.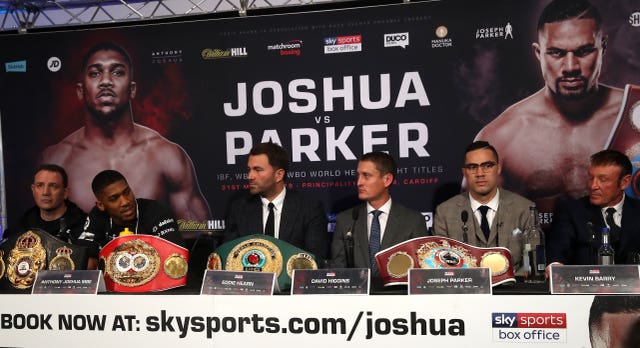 "I feel ready, I feel confident, I feel sharp. I'm taking these belts back to New Zealand. We love challenges. We see him as a big challenge and that's why we want to fight him.
"I feel it's my time. I'm young, I'm fast and I'm strong and I'm determined to win. I'm here to be part of history and I'm not just doing it for myself, I'm doing it for my team, my family and my country.
"I'm going to beat him but I haven't decided how I want to beat him yet. I don't know if it's a knockout, points or decision. I'll see how I feel on fight night."