England manager Gareth Southgate was frustrated by the video assistant referee as the incident that allowed Italy to secure a late draw was not a "clear and obvious" error.
The Three Lions impressed in the final match before the World Cup squad is announced, but questions about the use of video technology only increased after the 1-1 draw at a sold-out Wembley.
Lorenzo Insigne scored from the penalty spot in the 87th minute when, after VAR's latest high-profile and controversial intervention, debutant James Tarkowski was ruled to have fouled Italy substitute Federico Chiesa.
Replays suggested the VAR had made the right decision but the England manager, who had watched his team take the lead through Jamie Vardy's fine 26th-minute finish, felt guidelines that only "clear and obvious" errors should be corrected had not been followed.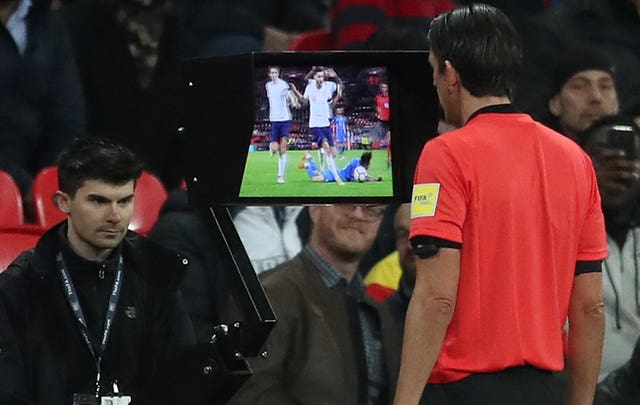 "I'm glad it's not the World Cup just yet. The ruling is 'clear and obvious' and it's not. It's one you can debate all day.
"It looks like James Tarkowski stands on him but it's during the running process and he's going down anyway.
"The referee had a good view already. I don't think with incidents like that VAR will clear things up. An obvious handball and stuff like that then maybe, but we have to get on with it.
"I prefer 'referee's decision is final'. That's my starting point. It's sport. We shouldn't be talking about how much money is lost.
"But if we go with technology it's the right thing to do, but it must be clear and obvious, otherwise it's just opinion again.
"A better way of communicating with the fans (is needed). That was a little better, but there's a clearer communication with those in the stadium in other sports."
Southgate, who at this summer's World Cup in Russia will be overseeing his first tournament as England manager, also revealed the make-up of "19 or 20" of his 23-strong squad has already essentially been decided.
England secured a 1-0 friendly victory away to Holland on Friday amid his experiments with shape and personnel, and he said: "There have been some strong performances from individuals that have cemented… not their place in the squad, 19 or 20 of those were pretty clear, (but) it's often who are the next ones in if we get a problem in a particular area.
"The things we've tried, we've learned a lot. What's really pleased me is the guys are solving problems on the pitch themselves: changes of formation from the opposition, patterns of working their way through different pressing tactics.
"That's a real plus, and will only improve the more we work together. I'm looking forward to the lead into a fantastic and exciting tournament for us."