The fallout from the Australia ball-tampering scandal continued on Thursday with another resignation and plenty of apologetic tears on a remarkable day in cricket's history.
Coach Darren Lehmann, Steve Smith and Cameron Bancroft all made emotionally-charged statements as Lehmann announced his resignation and the two batsmen made further public apologies.
David Warner, the instigator of the whole sorry affair, could only publish a tweet and later make a brief statement to waiting reporters as he and his wife carried their two young children through Sydney airport.
Cricket Australia chief executive James Sutherland, meanwhile, said he is committed to his job and will not resign in the wake of the scandal.
Other key developments today included:
– The International Cricket Council launched a wide-ranging review after "one of the worst periods in recent memory" for the game
– A major sponsor of Cricket Australia – wealth management company Magellan – cancelled a three-year deal
– Somerset announced Bancroft would not join them this season following his role in the scandal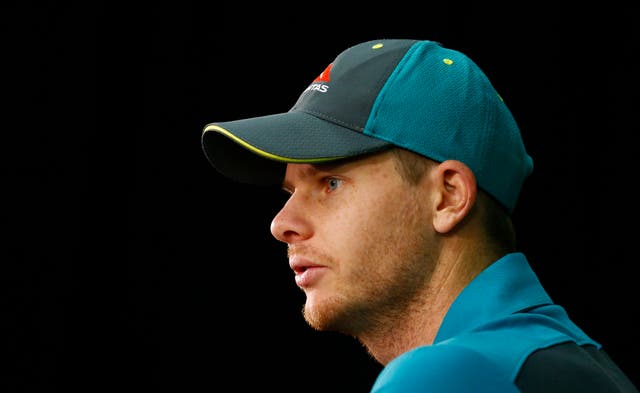 Earlier on Thursday, Smith and Bancroft both repeated their apologies for their actions, while cricket's international governing body announced a wide-ranging review into the behaviour of players.
Smith and Warner have been banned from international and domestic cricket for 12 months by Cricket Australia, while Bancroft was hit with a nine-month suspension for his role.
An investigation into the ball-tampering by Cricket Australia had cleared Lehmann, with Sutherland saying on Tuesday the coach had no prior knowledge of the plot.
Lehmann, though, accepted that "as a team we know we've let so many people down and for that we're truly sorry."
Speaking at a press conference, Lehmann said: "I'm ultimately responsible for the culture of the team and I've been thinking about my position for a while.
"Despite telling media yesterday that I'm not resigning, after reviewing Steve and Cameron's hurting it's only fair that I make this decision.
"This will allow Cricket Australia to complete a full review into the culture of the team and allow them to implement changes to regain the trust of the Australian public.
"This is the right thing for Australian cricket."
Both Smith, in Sydney, and Bancroft, in Perth, fought back tears as they faced the media.
Lehmann was also emotional as he thanked his wife Andrea and four children as well as close friends "for allowing me to do this job and supporting me 100 per cent every step of the way."
Warner, the third cricketer banned for the third Test ball-tampering plot which he devised, said on Twitter that his plan was a "stain on the game".
The 31-year-old arrived back at Sydney Airport on Thursday, with his wife Candice and carrying their eldest daughter Ivy Mae.
"As you can understand, it has been a tough and emotional time for my wife and the kids," Warner said, in a video shown on Sky Sports News.
"At this present time, you will hear from me in a couple of days.
"At the moment, my priorities are to get these kids in bed and rest up, and let my mind get clear so I can think and talk to you in a couple of days. Thanks guys."
Chief executive Sutherland later addressed the media in Johannesburg, when he said he remained "absolutely committed" to the job and praised Lehmann's "incredible work ethic".
Smith, Warner and Bancroft will be offered the support of Cricket Australia following their "life-changing mistakes" in a bid to eventually "allow them to rehabilitate and get back to playing the game they love," Sutherland added.
South Africa captain Faf du Plessis was fined, but not banned for ball-tampering during the 2016 Test victory over Australia in Hobart.
The Proteas skipper, though, said: "We are not sitting in a glass house thinking that we are better than them. It was a mistake that was made and they must move on now."
Smith, speaking after arriving in Sydney, said he took "full responsibility" for a "serious error of judgement", but stressed the incident in Cape Town was the first time Australia had ball-tampered during his tenure.
The 28-year-old said: "I'll do everything I can to make up for my mistake and the damage it's caused.
"If any good can come of this, if there can be a lesson to others, then I hope I can be a force for change."
Smith added: "I know I'll regret this for the rest of my life, I'm absolutely gutted. I hope in time I can earn back respect and forgiveness."
The cricketer choked up as he tried to explain what message he would send to children that follow the sport and then broke down again as he tried to put into words the impact his actions had had on his parents.
Smith concluded his press conference by saying: "I just want to say I'm sorry for the pain that I guess I've brought to Australia and the fans and the public. It's devastating and I'm truly sorry."
Bancroft, meanwhile, admitted he felt like he had "let everyone down in Australia".
Somerset also confirmed Bancroft would not join them in the new season, as had been planned, because of his role in the saga.
Sponsors have fallen too. Magellan pulled out of a sponsorship deal with Cricket Australia, while Smith has lost his endorsement deal with Australian breakfast cereal Weet-Bix and sports equipment manufacturer Asics announced it had terminated sponsorship contracts with Warner and Bancroft.
Warner and Smith have also been banned from taking part in this year's Indian Premier League.
The Australian Cricketers' Association (ACA) said there were a number of "glaring and clear anomalies" in the process leading up to the bans for Smith, Warner and Bancroft.