Promoter Eddie Hearn has not ruled out the prospect of unbeaten American Deontay Wilder being next up for world heavyweight champion Anthony Joshua.
But Hearn has also admitted to a considerable degree of frustration as speculation intensifies about the two juggernauts colliding later this year.
If Joshua fights and beats Wilder, he would clinch WBC honours and make him undisputed heavyweight king.
"If they (Wilder's management) stepped up and were actually serious about the fight and serious about a deal we are more than fair to offer them, it could happen next," Hearn said.
"But with them, they are so erratic and unpredictable, I don't know what to believe.
"I think it (Wilder fight) has to happen in 2018 otherwise we are going to hit some major problems with the politics and the mandatories.
"The whole point of the Wilder fight is to win the final belt, so we don't really want to drop a belt and then fight Wilder because it wouldn't quite be the history fight it could be.
"It is not really about Wilder, it is more about us sitting down over the next two weeks and planning out the rest of 2018. It's his (Joshua's) call on how many times he wants to fight this year."
WBO mandatory challenger Alexander Povetkin, who knocked out Liverpool's David Price after five rounds on the Joshua-Parker undercard at Cardiff's Principality Stadium, is another potential opponent.
Joshua added: "I have got to defend my throne again in a few months, so I am kind of balanced.
"We are still hustling, and we are on to the next in my eyes. It is not time to sit back and enjoy the ride, we have got to be ready for the next one.
"I think 2018 was always a time to capture all the belts, and we are one away now.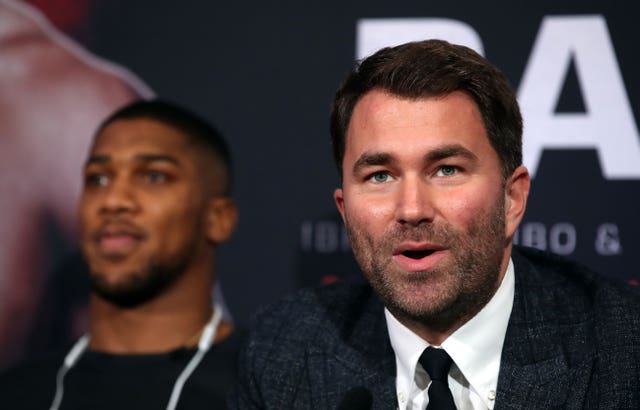 "But a lot of negotiations can go on over social media and YouTube and stuff, but when you are doing serious business, you have to sit down in confidential privacy and then we can see how serious people are about taking the fight.
"I like the sound of fighting in the UK, but if there was a healthy offer or something on the table, then it would make sense to go (to America), but there hasn't been that."
Although Joshua went the distance against previously unbeaten Parker, he gained emphatic victory margins on all three judges' scorecards as a stellar career continues at pace.
"I will get all of the belts. It is not an issue," he said. "But it is about improving, for me. That is how I am.
"There has always been high expectation. I don't let it bother me or faze me, and I just focus on improvement. I keep my feet on the ground. I don't get carried away, and I think the sky is the limit.
"We will ride our wave while we are here, and we will do what is right for us."