Manchester City coach Manel Estiarte has posted footage from inside the team bus to highlight the "unacceptable" behaviour by Liverpool fans ahead of the Champions League quarter-final at Anfield.
In Estiarte's Instagram video, objects, which appear mainly to be beer cans, can be seen and heard clattering into windows on the vehicle as it slowly makes its way through thousands of people and plumes of red smoke.
City's coach had at least one window smashed on the journey in and was deemed unusable for the return trip so a replacement had to be found while Pep Guardiola's team were playing in their 3-0 first-leg defeat.
After the match, City boss Guardiola expressed his surprise at the incident.
"Normally when the police know that is going to happen, they try to avoid it happening," he said.
"The bus is destroyed. I didn't expect that a club as prestigious as Liverpool would do these kind of things."
Merseyside Police are conducting enquiries to identify those responsible for throwing objects at the bus, while Liverpool have condemned the attack and vowed to support City in establishing the facts of what occurred.
Match Commander Superintendent Paul White said: "We are aware that damage was caused to the Manchester City team bus as it approached Anfield stadium ahead of the Liverpool v Manchester City match.
"Thankfully no-one on the bus was injured, but injuries were caused to two of our officers when projectiles were thrown towards the bus. The officers and stewards are there to protect the public and keep them safe.
"This behaviour by a number of people who threw bottles, cans and pyrotechnics towards the bus is completely unacceptable and we will conduct enquiries to identify who was responsible and bring them to justice.
"We worked very closely with both clubs to ensure the safety of the public and the teams themselves, and it is disappointing to see that a number of people behaved in this appalling way."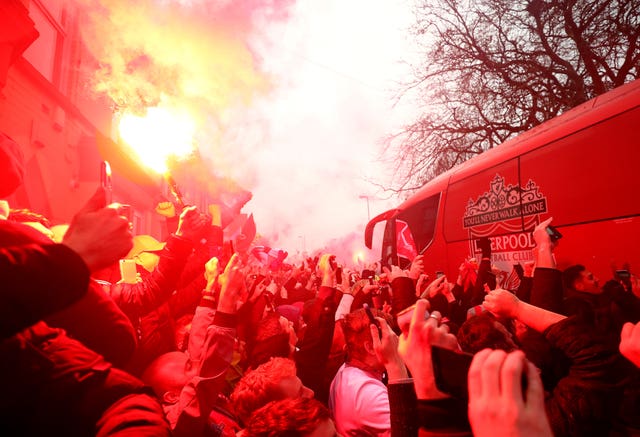 Despite the attack on the bus taking place in the streets surrounding Anfield, there is scope for European football's governing body to take action should it deem that to be an area the host club are in control of.
Article 16 of UEFA's regulations about order and security at matches states "host clubs and national associations are responsible for order and security both inside and around the stadium before, during and after matches.
"They are liable for incidents of any kind and may be subject to disciplinary measures and directives unless they can prove that they have not been negligent in any way in the organisation of the match."
The regulations also state that associations and clubs are liable for inappropriate behaviour on the part of their supporters and may be subject to disciplinary measures and directives, even if they can prove the absence of any negligence in relation to the organisation of the match, including a lack of order or discipline observed inside or around the stadium.
The focus will inevitably shift, following Wednesday's events, to the Etihad Stadium next Tuesday, and the plans which are in place to avoid any repeat.
Liverpool will not say whether they will take extra steps to ensure the safety of their coach and players, but it is understood they are likely to have talks on the matter before the match.
"The club doesn't comment on any additional or exceptional security and safety measures implemented as pertains to its employees," a Liverpool spokesman told Press Association Sport.
"This applies to matters involving first-team travel plans also."
Arrangements for team arrivals at the Etihad Stadium are slightly different to at other grounds, although both arrive on 'protected' routes.
The home coach pulls up outside the main reception for the players to receive an organised and staged blue carpet reception from supporters. The away bus arrives at a separate location some distance away from where home fans congregate and has a private entry into a tunnel under the stadium.
Press Association Sport understands, at this stage, there are no plans to put in place any additional measures.