Scotland's Katie Archibald added Commonwealth champion to her long list of accolades on Friday but England's Charlie Tanfield prevented her brother from doing the same.
Katie Archibald, an Olympic, world and European champion in various disciplines, took her first Commonwealth title with gold in the women's individual pursuit, having broken the Games record in a blistering qualifying session.
Her brother John also broke the Games record in qualifying for the men's event, only to watch Tanfield go even faster and then pip him to gold in the final.
Katie Archibald's only previous Commonwealth Games medal was the bronze she won in the points race in Glasgow four years ago.
The 24-year-old said before racing began gold was the only colour she wanted here and swiftly delivered, covering the 3,000m distance in three minutes 26.088 seconds to beat Australian Rachel Wiasak.
She had set the record at 3:24.119 in a qualifying session which saw three riders go under the previous record, set by England's Joanna Rowsell Shand in Glasgow.
"It means a lot," Archibald said of her first Commonwealth title. "Especially in the individual pursuit because it's not an Olympic event. 2014 always stands out as a big year for Joanna Rowsell to kind of echo, because she had the title and the Games record. You look at the success she carried from that point in her career. I'd be very proud."
Katie's performance helped fire up John, who surprised many as one of five riders in qualifying to go better than Jack Bobridge's Games record of 4:14.845 over 4,000metres, set in Delhi eight years ago.
"I watched her heat run and the pressure was on her," John Archibald said. "The Commonwealth Games record went and they all went better than her personal best so she had her back against the wall but she pulled out and delivered on the day and that got me going.
"It didn't quite work again in the final but it's always great racing with Katie."
Tanfield would go even quicker, and was less than a second off Bobridge's world record as he set a time of 4:11.145 in qualifying.
The final itself was slower as the evening air cooled, and Tanfield delighted in victory after admitting he feared he had got his pacing wrong.
"It's absolutely epic, I couldn't have asked for anymore," Tanfield said. "I knew I was in a good place after qualifying. Towards the end I almost thought I'd messed it up but I managed to hang on so I'm ecstatic."
Though Tanfield might have denied the Archibalds the absolutely perfect day John could be happy for his team-mate from Team KGF, the all-amateur squad with which Tanfield announced his talent.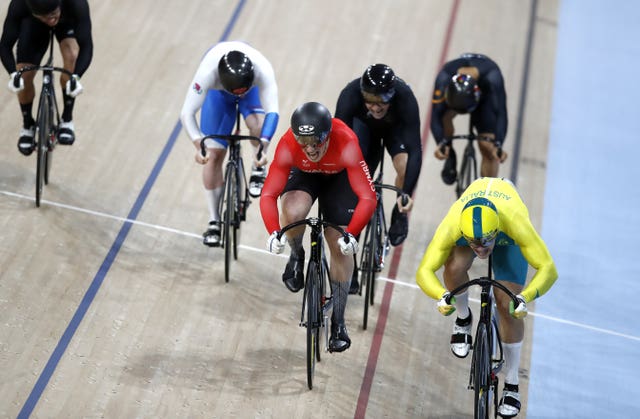 There was joy too for an ex-member of that programme, Wales' Lewis Oliva, who won silver in the men's keirin as Australian Matthew Glaetzer successfully defended the title he won in Glasgow.
"It's amazing, to come here with the big boys and mix it up in the final is absolutely a dream come true, I still can't believe it," said Oliva, who left British Cycling after failing to make the Olympic squad for Rio, and now combines riding with medical studies.
"I'll wake up in a minute and it will all be a dream."