Chelsea paid an emotional tribute to Ray Wilkins ahead of their Premier League clash with West Ham.
Wilkins, who began an impressive playing career at Stamford Bridge and also later coached them, died on Wednesday aged 61 following a cardiac arrest.
There was a minute's applause before kick-off, with banners held up by fans in both the Shed End and the Matthew Harding Stand and a video tribute played on the big screens.
The one in the Shed End read: "Ray was one those select few, he knew what it meant to be one of us a real blue blood. Chelsea flowed through his veins, may you rest in peace Ray."
Once the action got under way all four sides of Stamford Bridge performed another 60 seconds of applause in the eighth minute – to mark the shirt number the midfielder used to wear at the club.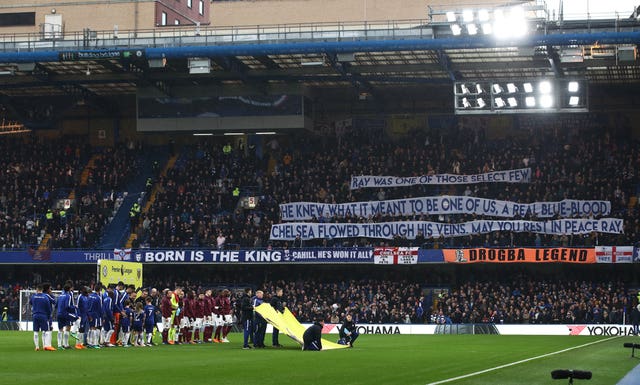 The defender said: "It has hit us all hard. Our times at the club didn't overlap, so I never had the good fortune to be coached by Ray, but I have met him on several occasions and he was always such a warm and friendly man.
"I know a lot of players who did work under him and they have been full of praise for his football knowledge and his wonderful character.
"On behalf of everyone at the club, I'd like to send our love and best wishes to Ray's family. Chelsea will always remember what he did for this club and the fantastic memories he gave us."
Cahill and the rest of the Chelsea squad warmed up in black t-shirts with Wilkins' number eight on the back while there was a bunch of flowers laid on a seat in the home dugout.
Outside the ground, fans flocked to a memorial wall behind the Shed End, laying flowers and scarves with hundreds of fans also queuing to sign a book of condolence.