Manchester United boss Jose Mourinho has told Paul Pogba to be more consistent.
The France midfielder scored twice as United beat Manchester City to delay the champions being anointed, but was underwhelming in a 1-0 loss to West Brom which gifted City the Premier League title.
Mourinho praised Pogba's response in Wednesday's 2-0 win at Bournemouth and challenged him to keep his game at a high level.
"I told him after Manchester City that I'm not expecting him to be the man of the match every match," said Mourinho, speaking ahead of Saturday's FA Cup semi-final with Tottenham at Wembley.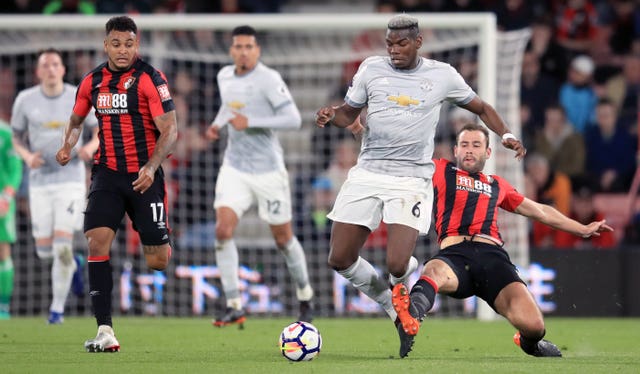 "But (I do expect him) to keep a certain level. That's the challenge. That's obvious.
"He was phenomenal against Manchester City. I think he was not good against West Bromwich Albion and I think he was again phenomenal against Bournemouth.
"Against Manchester City you have the two goals that people can say 'wow, super decisive' – I think he played even better against Bournemouth.
"Since minute one he was even more consistent, more in control, more in control of the game. I think he was really, really good."
The Portuguese is adamant a season without silverware should not be perceived as "failure".
He added: "Can you say the three teams that are not going to win the FA Cup are going to fail? I think it's too harsh. Praise the winner and we're going to try to be the ones (who win)."
Mourinho says United's season has been positive despite the sizeable gap to City, who made it "impossible" for anyone else to win the title.
"Many clubs had positive seasons, like us, like Tottenham, like Liverpool," he said.
"But it was impossible, because City were really good and consistent and will reach a number of points that makes it impossible.
"Give no chance to the opponent, that's what Manchester City did.
"We had periods of winning matches and waiting for them to lose a couple of points. They never did it.
"Even when they were almost losing points they managed to win against Bournemouth in minute 145.
"And some other matches where they won minute 90-something. They were really, really, really strong. That's why there's no question in the country about who deserves to be champion."
Mourinho says United are not at a disadvantage playing at Wembley, Spurs' temporary home this season while White Hart Lane has been rebuilt.
Mourinho pointed to his Inter Milan side's 2010 Coppa Italia triumph against Roma at their opponents' Stadio Olimpico home and his Real Madrid side's 2013 loss at their Bernabeu home to Atletico Madrid in the Copa del Rey final.
Mourinho, who is seeking a fourth FA Cup triumph after three with Chelsea, said on Friday: "I don't think it's an advantage at all.
"I played one cup final in Roma's stadium against Roma and I won. I played a cup final in my stadium and I lost.
"So I think when you go to this big moments with these big decision, semi-finals, finals, I don't think it's an advantage."