Ronnie O'Sullivan has apologised for making an "embarrassing" start to his latest world title bid and said he wanted to refund short-changed snooker fans.
With a sixth Betfred World Championship crown in his sights, O'Sullivan was off his game early on against Stephen Maguire in Sheffield.
But after his Saturday horror show he atoned by winning seven out of eight frames on Sunday to secure a 10-7 first-round victory.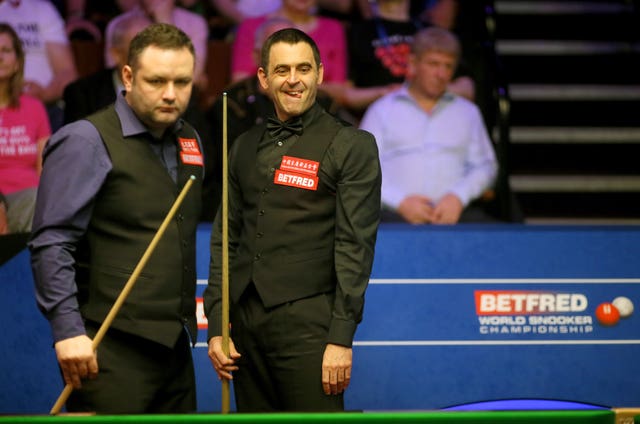 Another packed house watched O'Sullivan avoid following defending champion Mark Selby out of the event. And this time he was relieved to turn on the style to which Crucible crowds have become accustomed, a stark contrast to Saturday's performance.
"It was so embarrassing and I felt like I wanted to give them all their money back. I was gutted," O'Sullivan said.
"They took a Saturday afternoon out to come and watch a bit of snooker. Thank God Stephen potted a few balls. I was missing balls all over the gaff.
"I was lucky to get through, and that's good for me and unlucky for Stephen."
O'Sullivan, 42, hopes to live a remarkably long life after dedicating himself to a healthy diet.
Working with nutritionist Rhiannon Lambert, with whom he is writing a book, has given O'Sullivan a new outlook.
"I think I'm going to live until about 200 now," he said. "I feel better now than I ever have.
"The biggest thing for me this year has been how I've tackled how I eat.
"Compared to the average Briton I'll always look well. You look at the state of some of the humans in our country and they're massively obese, a bit like America really. I don't want to fall into that trap.
"I never thought I'd like celery but I'm eating so much of it now I'm going to look like a celery stick at the end of this tournament."
O'Sullivan goes on to face Ali Carter in the second round, starting on Friday, a repeat of the 2008 and 2012 finals which both went O'Sullivan's way.
Carter beat 2006 world champion Graeme Dott 10-8 from 6-2 behind to set up a fifth career Crucible clash with O'Sullivan. He has lost the previous four meetings.
After twice overcoming cancer, Carter has a fearless attitude and said of O'Sullivan: "He's red-hot favourite but I'm going to turn up, have a little go, and see what happens."
Carter accused Dott of taking victory for granted when he led so convincingly, and said: "You can never, ever think you've got a match in the bag, so that'll be a lesson to him."
Mark Allen pulled 6-3 clear of debutant Liam Highfield and Shaun Murphy held a slender 5-4 overnight lead against Jamie Jones.
Rising star Kyren Wilson wrapped up a 10-3 victory over two-time runner-up Matthew Stevens, and will face Murphy or Jones next.
China's Lyu Haotian completed a debut win over Hong Kong's Marco Fu, coming through 10-5 against a player who has missed several months of the season leading up to the World Championship after undergoing eye surgery.
:: The BBC's television studio in Sheffield's Winter Garden was briefly evacuated late in the afternoon session when an alarm sounded during a live broadcast featuring presenter Hazel Irvine and former champions Stephen Hendry and Steve Davis. The trio relocated to the practice rooms in the nearby Crucible from where their between-frames analysis of the action continued.