Harry Kane has conceded Tottenham players may have to adopt a fresh approach to big games after they suffered an eighth successive FA Cup semi-final defeat.
Spurs will end the season without silverware after Manchester United came from behind to win 2-1 at Wembley on Saturday.
It means Tottenham have not tasted major trophy success since 2008 as focus now turns back to securing a top-four finish in the Premier League.
Dele Alli had seemingly set Mauricio Pochettino's side on course to break their semi-final hoodoo as he slid in to give Spurs a deserved early lead.
But Alexis Sanchez levelled for United before Ander Herrera hit the winner in a second half where the Londoners rarely threatened.
Finishing another season empty-handed will lead to further speculation over the future of Tottenham's key men – with Kane admitting slipping to defeat in big games could be linked to the mentality of the squad.
"It could be," he replied when asked if mentality could be the difference between winning and losing important matches.
"There's obviously a reason why we're falling short in the semi-finals, or in the big games. So we have to do better.
"I wouldn't be able to tell you exactly what it is. But it's frustrating. It's frustrating personally, it's frustrating for the team. But yeah, we just have to find our way around it.
"It's annoying. It's hard to put a finger on why. But we weren't good enough. It was an even game. They got their noses in front and that was the end of it."
Kane struggled to have an impact on proceedings as he was well-marshalled by United's defensive duo of Chris Smalling and Phil Jones.
But the 24-year-old insists his quiet afternoon was not linked to his recent ankle problem or returning to action too quickly with the World Cup on the horizon.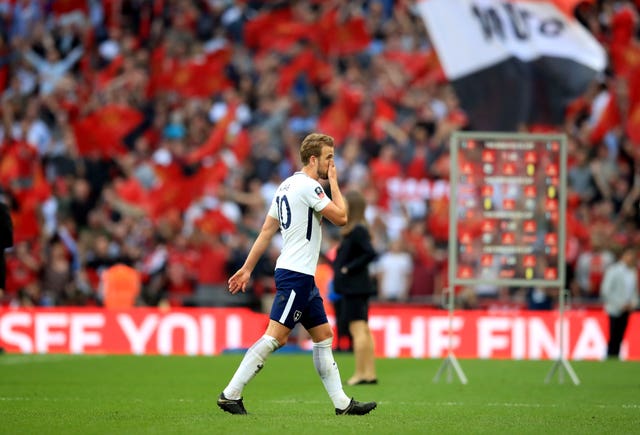 "But when you set standards, people are going to look for things when you're not at them. I'm the same. I want to be better, I want to do better.
"I feel good. I feel sharp. It's been a tough week, a tough week for the team. The Manchester City game, frustrating against Brighton and obviously frustrating today.
"For me personally, can I do better? Probably, yeah. Can the team do better? Yeah. So it's a collective effort. We'll all be disappointed today, as will I.
"But all we can do is try and secure the Champions League (by finishing in the top four)."