Liverpool manager Jurgen Klopp admits a potentially-serious injury to Alex Oxlade-Chamberlain left him feeling more deflated than the two late goals they conceded to Roma.
The Reds looked to have booked their place in the Champions League final after racing into a 5-0 lead with nine minutes to go in the first leg last-four tie at Anfield.
Two brilliant goals for Mohamed Salah, taking his tally to 43 for the season and another two for Roberto Firmino sandwiched Sadio Mane's close-range strike to do the damage but Edin Dzeko and a Diego Perotti penalty ensured next week's game at the Stadio Olimpic is not a foregone conclusion.
However, it was the loss of Oxlade-Chamberlain, who was carried off on a stretcher with his right knee in a brace to most likely end his season and World Cup hopes, which upset Klopp the most.
"The biggest blow for the mood is the injury of Chamberlain because we lost a fantastic player," he said.
"I am a very positive person and hope it only feels bad but all the medical department are quite concerned without a scan.
"Conceding two goals is not what we want 100 per cent but we can deal with that.
"It's a very positive result. If one of my players doesn't think Rome will try to come back, he will not play."
Those two late goals took some of the shine off a brilliant virtuoso performance by Salah – but not much.
The Egypt international, who broke another of Ian Rush's club records by scoring in a 33rd different match this season, curled one shot in off the angle of post and crossbar and then dinked a second over goalkeeper Alisson.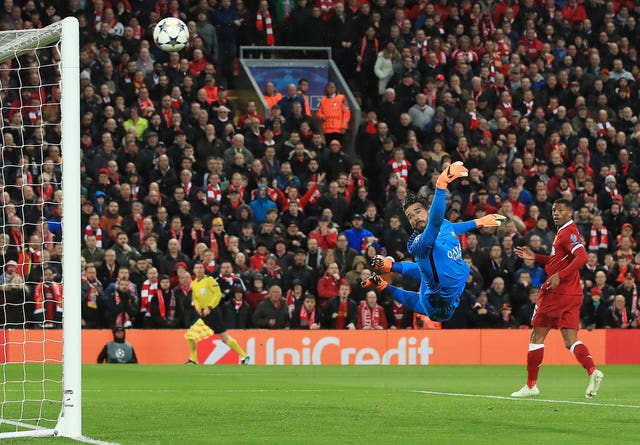 "What a player. If you think he is the best is the world, write it or say it. To be the best in the world you need to do it over a longer period, I think. The other two (Lionel Messi and Cristiano Ronaldo) are not bad."
Salah was substituted before Roma's late comeback and Klopp took full responsibility for any effect that may have had on the team.
"If anyone wants to say it is my mistake we conceded the two goals because I changed the striker, I have no problem with that," he said.
"He was running all the time and it would not have helped us if he gets an injury."
Roma coach Eusebio di Francesco has not ruled out staging a comeback like the one which saw the beat Barcelona 3-0 having trailed 4-1 from the first leg.
"Hope is still there. We don't need miracles, we just need to believe in what we do against a quality team, and a different team than Barcelona," he said.