Arsene Wenger's final trip to Old Trafford as Arsenal manager started with a "classy" welcome, yielded a late defeat and ended with Manchester United boss Jose Mourinho eyeing further battles in the future.
The Frenchman has spent most of his 22 years as a rival, irritant and adversary to the Red Devils but was afforded plenty of respect as he led the Gunners against them one last time before vacating the dugout.
There was a pre-match moment with Sir Alex Ferguson, who presented his old sparring partner with a silver vase, and kind words from Mourinho but the sheen was taken away by the bitter taste of an injury-time loss.
Wenger accepted his unusually cordial welcome from United in the manner it was intended, but could not shrug off the frustration of losing.
"Once you are not a danger any more, people love you," he said wryly.
"I am programmed to try and win football games, I don't think that changes. But I am thankful to Manchester United because they had a nice gesture.
"It is the first time I get a trophy before a game. It is very classy from them."
As for the reaction of his young but eager side, he added: "The players are destroyed because they gave everything and were caught in the final minute."
Mourinho claimed credit for involving Ferguson in Wenger's pre-match tribute, on the grounds that the Scot was his "real rival, especially at Manchester United".
The Portuguese has his own turbulent history with Wenger but hopes his latest victory does not mark the end of their tussles together.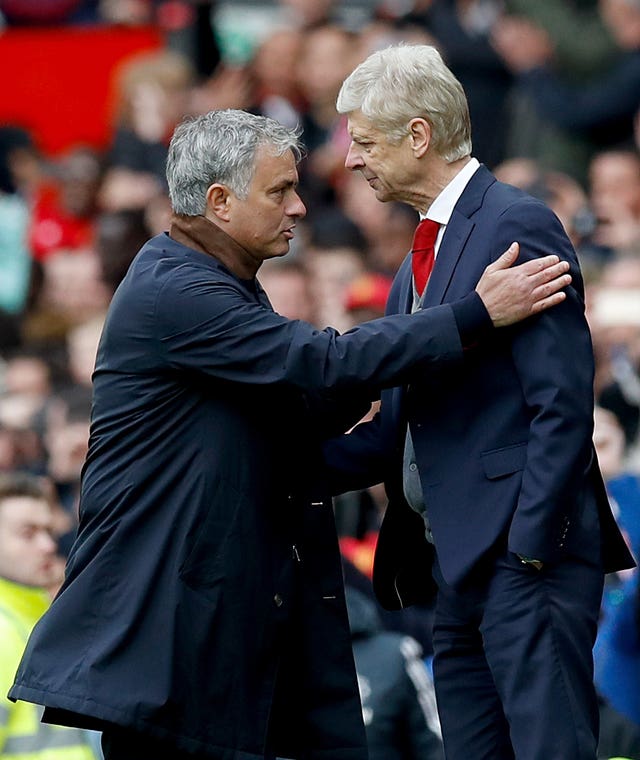 "If not in the Premier League, who knows, we still have a big match waiting for us."
The response suggested Wenger is still no clearer on his next destination as he faces up to life away from the Emirates.
"I don't know where I will be. At the moment I am in a bit of unknown territory," said Wenger.
"I don't knew where I go from here or do I take a break? I would be surprised if I meet him next year."