David Haye intensified his mind games with Tony Bellew by claiming Saturday's rematch will be "dragged out for as long as Bellew can stand".
The former WBA heavyweight champion is under pressure to revive his career at London's 02 Arena and recognises that unless he avenges last March's defeat, he will never fight again.
He ruptured his Achilles during that 11th-round defeat and a biceps injury then forced him to postpone Saturday's fight from December. Before the first of those he had also fought less than eight rounds since 2012.
Bellew, 35, is also widely considered the more durable of the two fighters but Haye, who prior to Bellew regularly succeeded in getting into his opponents' minds, is adamant he will do the opposite to what so many expect.
"Normally I look to close the show quickly but, this time, I will drag it out for as long as Tony can stand up," said the 37-year-old, who last year recruited Cuba's Ismael Salas as his new trainer after splitting with Shane McGuigan.
"He will not hear the final bell. I will break him down and stop him.
"I believe this fight goes longer than six rounds. I am looking and bringing this fight as long as it can go.
"It will be toe-to-toe action. I will bring the heat way more than I did last time. Last time it wasn't educated pressure, it was just reckless. This time it will be educated.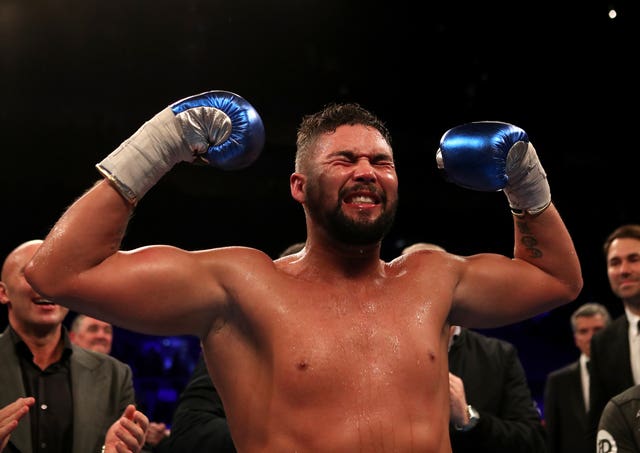 "He's been a world champion at cruiserweight but he's moving to heavyweight; this is my division so we'll see who the main man is."
Former WBC cruiserweight champion Bellew has become far less of an underdog since last year's unexpected victory but recognises he is still expected to lose.
He also agreed with Haye's assertion that he is not comfortable at heavyweight, but dismissed suggestions of potential size disadvantage because Haye is also a natural cruiserweight.
"I tried to become a heavyweight but I'm not, I'm a cruiserweight," he said. "I'm facing another former cruiserweight.
"He's close to the end; I'm close to another chapter. He makes a big mistake saying 'Enjoy your 15 minutes of fame' but this ain't my last 15 minutes, it's his.
"I was born the underdog. I'm always the underdog; the guy who's supposed to get knocked out. I'm fighting for my life on Saturday night and I'm under no illusions; if I make one mistake, I'll end up in St John's (hospital).
"I'm supposed to get knocked out in two rounds, but I'm going to shock a few more people."