Jose Mourinho believes Manchester United assistant Rui Faria would be a good fit for the vacant Arsenal manager's job, offering to help his friend pack and "carry the bags" whenever such an opportunity arose.
Speculation is rife as to who will succeed Arsene Wenger when his 22-year reign comes to an end this summer, with Liverpool number two Zeljko Buvac the surprise bookmakers' favourite.
Buvac is not the only Premier League assistant to be linked with the Gunners post as speculation has linked Manchester City's coach – and former Arsenal captain – Mikel Arteta as well as Mourinho's right-hand man.
Asked if his assistant would be a good fit at Arsenal, the United boss said: "I think (so), yes.
"I don't know (if he wants to be a manager). You ask me if I think it would be a good fit and I say 'yes'.
"And I say it because more than my assistant, he is my friend.
"If my friend has the possibility one day of a big job I would help him to pack and to carry the bags and to wish him luck.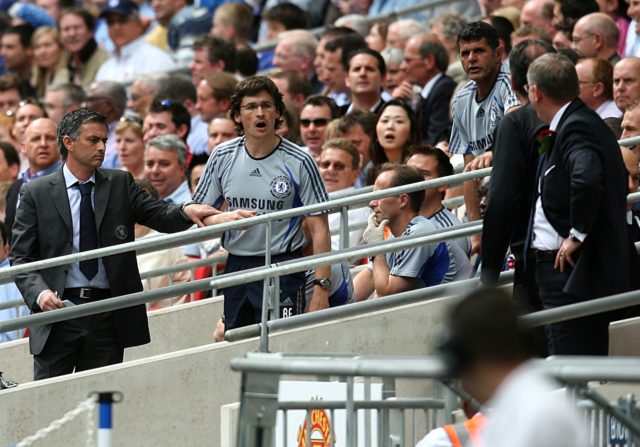 "So, if one day the moment arrives, I will be very happy."
Mourinho took a similarly philosophical stance when it came to Marouane Fellaini's future.
Last weekend's match-winner against Arsenal is out of contract in the summer and an extension has yet to be agreed with the imposing Belgium midfielder.
Fellaini was quoted this week as saying he felt in a "strong position" and that United made a mistake in not offering him a new deal sooner, yet Mourinho is "still positive" that a contract will be signed.
"It's not frustrating for me because that's football," the United boss said.
"He let his contract run until the end. You cannot say that it was the club.
"If there were no offers, then we could say the club let it go until now. He had offers. And he had offers in a progressive way.
"Of course, the offer he has now on the table is a better offer than he had six months ago or eight months ago.
"It's a process and he is using the fact that he is in the end of his contract to let it go. Is it a decision good or bad… but it is his decision and we have to respect that."
Fellaini is set to be involved at Brighton on Friday evening, as are the likes of Ander Herrera, Juan Mata and Ashley Young – players whose deals expire next summer.
Mourinho would not talk about whether they had been offered new contracts, just that Michael Carrick is the only player he is sure will leave anytime soon given his impending retirement this summer.
"When a player wants to leave, if he is out of contract he can," he said. "When he has a contract, he cannot.
"We have to analyse what they bring to us.
"Until this moment, no players spoke with us about wanting to leave.
"From that, I don't think I have to answer to you in a more objective way."