Mark Williams was fuelled by an early-morning kebab and a handful of wine gums as he set the pace in the Betfred World Championship final.
The Welshman seized an early 4-0 lead against John Higgins before settling for a cushion of 5-3 at the end of the opening session in the best-of-35-frame contest.
Williams would surely have signed for that scoreline before they began, considering the late-night finish to his semi-final against Barry Hawkins on Saturday.
The finalists, born just two months apart in 1975, were contesting the first title match between two players in their forties since this once-nomadic tournament's 1977 move to the Crucible.
But given that 43-year-old Williams left the venue so late after fending off Hawkins in a final-four nerve-jangler that his only supper option was provided by a local kebab shop, there were concerns he would find it a struggle at least early on against 42-year-old Higgins.
"Doner meat n chips never tasted so nice", Williams tweeted at 2.14am.
And the bag of sweets passed his way by a fan sympathetic to his fatigue was welcomed by Williams who would have been astonished how slowly Higgins began the match.
Despite making a top break of just 42, Williams raced through the opening four frames.
Higgins joined the battle as runs of 119, 52 and 59 showed his threat, ahead of the evening resumption. Williams also improved his best break to 95, and would have welcomed the chance for a two-hour breather before the nine frames that awaited them later in the day.
They have become known as snooker's 'class of 92', the trio who have taken the sport to a new level.
On a broiling Sunday in Sheffield all three were inside the Crucible.
As Williams and Higgins battled it out for the trophy and £425,000 top prize, five-time champion O'Sullivan was on Eurosport commentary duty.
"This is what I call pay-per-view sport – two players who are true gladiators of their sport," O'Sullivan said. "They are the best of the best."
Higgins and Williams first played each other on a big stage in January 1991 at the Mita World Masters, a fortnight-long televised tournament run by Barry Hearn and modelled on a tennis grand slam format with men's and women's singles and doubles plus a junior event. The two future world champions contested the final of the boys' event.
"We were 15 and he hammered me 6-1 and won five grand," Williams said. "Then I beat him a week later 4-0 and I won £295 in the final of the British Juniors.
"We turned pro together and 25 years on we're back in the World final, it's unbelievable."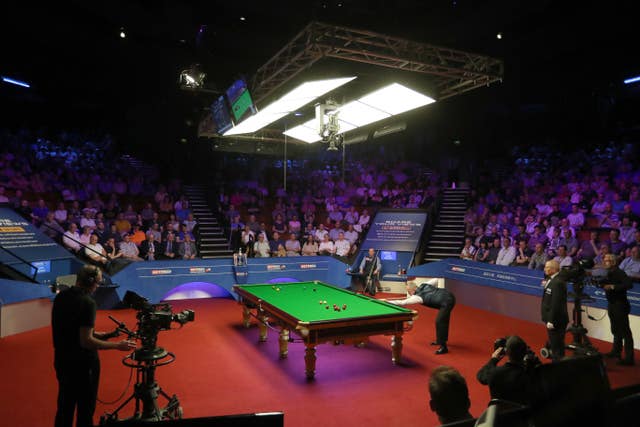 "Hopefully if it goes close towards the end I won't collapse like a cheap tent again," said Williams, who failed to qualify for last year's World Championship and thought about retirement.
Both men were attempting to become the oldest champion since 1978, when 45-year-old Ray Reardon triumphed.