Antonio Conte dodged questions on his Chelsea future ahead of Wednesday's Premier League clash with Huddersfield, which could be his final home match as Blues head coach.
Speculation has been rife all season that Conte's tenure will come to an end this summer after periods of public disgruntlement from the Italian.
Conte last summer signed an improved contract, but not an extension, to the three-year deal which expires in June 2019 after guiding Chelsea to the title in his first season as boss.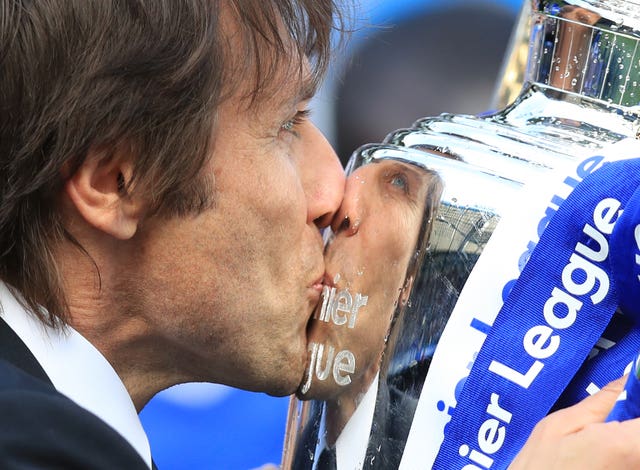 "I'm very focused on the present, to do the job in the best way for the players and the fans.
"Our job is not simple, it's not easy. But I'm totally focused on the present.
"The present is now to finish the season in the best possible way with my players. Also because I think our fans deserve this."
Fifth-placed Chelsea, who play Manchester United in the May 19 FA Cup final, are playing catch up in the bid to qualify for the Champions League next summer.
Conte's side are two points behind Tottenham and three adrift of Liverpool with two games to play.
Spurs play the Magpies on Wednesday night and Leicester on Sunday, both games at Wembley, and Liverpool play Brighton at Anfield on the final day.
Chelsea have won their last four league matches, but Conte bemoaned the late run which means even wins over relegation-threatened Huddersfield and Newcastle may not be enough for the Blues.
"There is a bit of disappointment because this season we dropped many points in a stupid way," Conte added.
"Now there is not time to regret. We have to play two games, against Huddersfield and Newcastle, and then the final of the FA Cup.
"The only way to put a bit of pressure is this, to get three points in every game.
"In the last month we did this. We won three games away, Southampton, Burnley and Swansea, and one game at home against Liverpool. We're doing our job in the best way to put pressure on Tottenham and Liverpool."
The Spain striker has had an indifferent first season in England. After starting well, he took until March 18 to score his first goal of 2018 and has three strikes in all this calendar year.
"This season was a difficult season, but not only for Morata," said Conte, who declined to address speculation the striker could leave this summer.
"It's important to be focused on the present and to finish the season in the best possible way."