Manchester United manager Jose Mourinho expects his players to raise their game when they return to action for the first time since the news of Sir Alex Ferguson having an emergency operation on a brain haemorrhage.
The 76-year-old former United boss continues his recovery in intensive care in a Salford hospital after the surgery on Saturday.
Mourinho was holding a press conference ahead of Thursday's Premier League match at West Ham, when he was asked about the former United manager, who won 38 trophies during his Old Trafford tenure.
"His family asked for privacy and that is what I am going to respect," Mourinho said.
"But (as a club) we are positive. We are very, very positive. We are confident."
Asked if it would influence the mood of the players or United coaching staff going into Thursday night's match at the London Stadium, Mourinho replied: "No, I can only think that if there is any relation, it is a positive relation."
Gestures of support continue for the Scot, who retired in 2013.
David Moyes replaced Ferguson as manager at United, and revealed he was "devastated" when he heard the news.
Now in charge of West Ham and preparing to face his former club, Moyes is heartened by the positive reports regarding Ferguson's recovery.
"We were devastated when I heard the news after the game on Saturday coming back from Leicester," Moyes said at a press conference on Wednesday afternoon.
"But if the news is correct and Sir Alex is doing well, we are thrilled, we really are.
"We have been thinking about him and his family, I know them all well."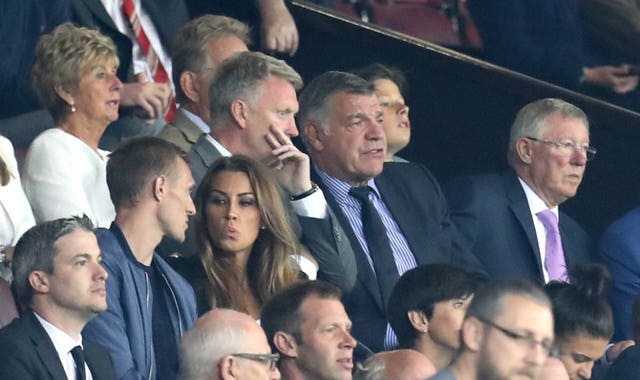 "I just hope he is sitting up in bed watching this news conference."
Ferguson spent almost 27 years in charge at Old Trafford, where his teams won some 13 Premier League titles as well as five FA Cups and the Champions League twice.
The 76-year-old also enjoyed a successful spell north of the border with Aberdeen, guiding the club to the Scottish league title three times and also success in the 1983 UEFA Cup Winners' Cup final.
During Tuesday night's match against Rangers, Dons fans unveiled a banner which read: "Sir Alex, get well soon."