Bernardo Silva wants Manchester City to end their record-busting season in style by breaking the 100-point barrier.
The champions have already won more games, scored more goals and collected more points this season than any other side in the Premier League's history.
But with one game still to play at Southampton on Sunday, City have the opportunity to set the bar even higher and reaching the century of points is the prime motivation.
Wednesday's 3-1 victory over Brighton took City to 97 points, 105 goals and 31 wins for the season.
Forward Silva said: "All the staff have said to us, now we've broken all the records, we want to go for the three digits – 100 points. It's something nobody ever did before, and we want to do it."
Silva scored City's second goal in their midweek win against the Seagulls, the club's record-breaking 104th of the season, eclipsing Chelsea's previous best of 103 in 2009-10.
The Portuguese said: "It was a very special moment. We've said a few times, of course we wanted to win the league but if we can win it and break the records it would be even better because you stay in the history of the Premier League.
City won the title with five games to spare but there has been little easing up since, with Silva saying the pursuit of records has provided great motivation.
The 23-year-old Portugal international said: "Yes, the manager and all the staff told us they wanted it, they said, 'Let's break the records because it will be something special'.
"And it will be something that maybe in a few years we can still tell our kids and grandkids about."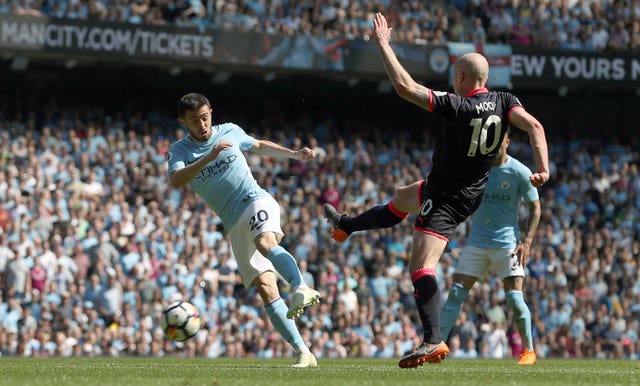 He said: "It wouldn't be my best – in Monaco I think 11 was my best – but, of course, I'll try to do it.
"The way we play, everyone is important so everyone is involved in scoring goals. It might be difficult for (goalkeeper) Ederson to score but we will try!"