Mauricio Pochettino will make sure he celebrates Tottenham qualifying for the Champions League again, but admits the supporters "deserve a trophy".
Spurs booked a third successive year in Europe's elite club competition, in a season where they played at Wembley and all the other teams around them spent massively.
They could finish third if they beat Leicester on Sunday in their final league game at the national stadium and Pochettino will enjoy their success before plotting a Premier League title challenge for 2018-19.
"Last season, we finished second but it is not enough because we didn't win the Premier League," the boss said.
"And this season, again, despite playing at Wembley and many things from the beginning, still (for) some the situation is that, 'Oh yes, but the team needs to win some titles…'
"Yes, after four years we never celebrate. I am going to celebrate with my people.
"I am going to celebrate with my staff, Jesus (Perez), because I think for us it is a massive achievement and of course not enough – because we want to win titles.
To realistically challenge the two Manchester clubs next season Spurs will probably have to spend big, but Pochettino still believes his way can be successful.
"One way is to spend money. Another is what we are doing, to create players, like in the case of Harry Kane, Dele Alli," he said.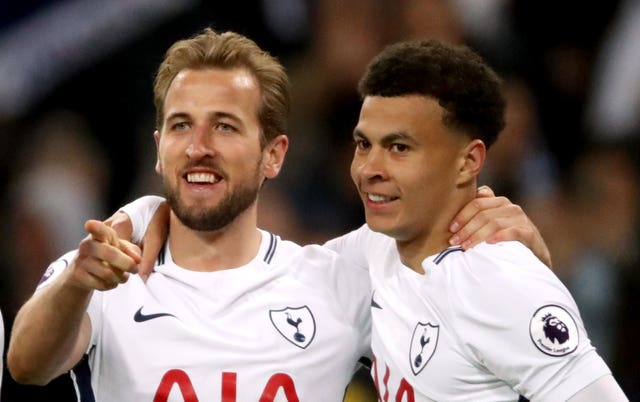 "That is my focus until now."
Pochettino still has three years on his contract at Spurs and said there was "no point" talking about his future.
"Only you know in football that everything can happen. No one is sure in their job, but I have a three-year contract," he said.
"Like I told the media in Spain after the game on Wednesday, they asked me about my contract and about what happened at some clubs, I told them, 'Look, I have a three-year contract and they need to agree with (chairman) Daniel (Levy).
"I don't know, but today it is 100 per cent because I have a three-year contract here.
"But tomorrow I don't know what is going to happen."
Spurs have a few doubts for the clash with Leicester as Mousa Dembele (ankle), Serge Aurier (hamstring), Kieran Trippier (knee) and Victor Wanyama (thigh) are all doubts.
Eric Dier is expected to return from an illness, but Harry Winks is definitely out.