Arsene Wenger literally bowed out as Arsenal manager on Sunday afternoon as he enjoyed the adulation of every supporter crammed into Huddersfield's John Smith's Stadium.
The 68-year-old admitted earlier this week that his protracted goodbye, brought about by the club's decision to announce his departure last month, has not been a completely enjoyable experience.
But now the season is complete, Wenger will head off to new challenges while the Arsenal board work out who best to entrust with the squad the outgoing boss leaves behind.
"It was spontaneous," he revealed after the game.
"Because I know that we've disappointed the away fans this season, that many of them they live the whole week and use their spare money to travel up to games.
"It's part of the respect. We had disagreements which I accept but we had one thing in common: we loved Arsenal Football Club and I wanted to share that with them today."
Almost 15 months ago, as the Arsenal fanbase grew increasingly split over whether Wenger should stay, a plane was flown over the Hawthorns as West Brom beat the Gunners 3-1.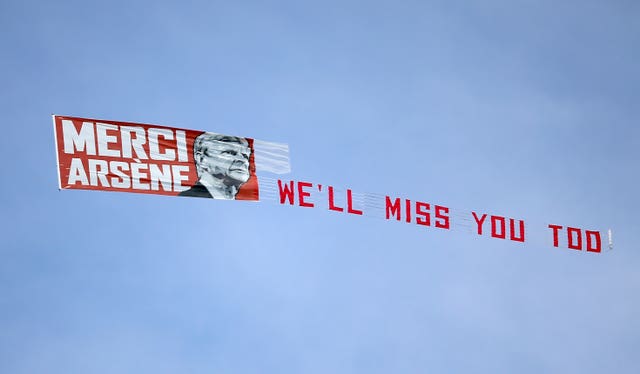 If there was to be any ground to mark Wenger's farewell, few could have been a better fit than Huddersfield, the two clubs united by the success delivered by Herbert Chapman – who brought silverware aplenty to north London and West Yorkshire alike.
Wenger even suggested he felt like a portrait of Chapman hanging outside the dressing rooms tipped him a smile as he headed out for his final game.
Results have not improved in recent times, two home wins over West Ham and in his final Emirates Stadium game against Burnley were timely given the Frenchman was preparing his goodbyes.
But losing at Manchester United, Leicester and Atletico Madrid – where hopes of a final trophy were dashed in the Europa League semi-final exposed the soft underbelly which has plagued Wenger's teams in recent years.
Like the fanfare after the Burnley win last weekend, the result was secondary – even if Arsenal did pick up their first away points of the calendar year following the 1-0 win at a sun-soaked John Smith's Stadium.
Huddersfield were gracious to Wenger, taking time out from celebrating their Premier League survival, achieved with two draws at Chelsea and Manchester City, to praise Wenger – standing as one to applaud in the 22nd minute – marking his 22-year tenure.
Wenger sat in the dugout over an hour before kick-off, chatting and signing autographs as he contemplated his final 90 minutes in charge of an Arsenal team.
Huddersfield boss David Wagner praised his counterpart in his programme notes, showing Wenger's standing within the game remains strong.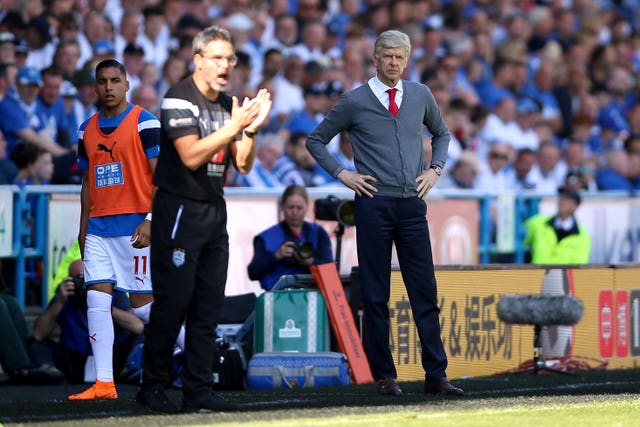 The German then presented Wenger with a commemorative shirt and programme before both sets of players formed a guard of honour as he emerged from the tunnel one final time.
Wenger made a beeline for the travelling Arsenal fans, bowing to them as they chanted his name – something the whole stadium took part in on 22 minutes, rising as one to applaud his 22-year tenure as Arsenal boss.
He responded with a wave, Wenger having been keen for as much focus as possible to remain on the pitch in the club's closing games of the season and not over his impending departure.