Manchester City boss Pep Guardiola wants to come back even stronger next season – after a summer relaxing with beer and wine.
Guardiola revealed he intended to have a good rest as he addressed crowds following the Premier League champions' open-top bus parade on Monday.
An estimated 100,000 supporters lined the streets of Manchester as City celebrated an outstanding campaign in which they broke a host of records.
Guardiola's side set new best marks for most points (100), most goals (106) and most wins (32) as they won the Premier League by 19 clear points, another record. They also won the Carabao Cup.
The challenge is now to better that next year, but Guardiola does not intend to start thinking about that quite yet.
"Now is the time to enjoy what we've done this season," said Guardiola as he spoke to crowds at the end of City's bus tour. "It's not the time to talk of next season.
"This summer we'll watch the World Cup on the sofa – we'll have some good beer, good red wine and enjoy what we have done. Then we'll try to come back stronger than this season."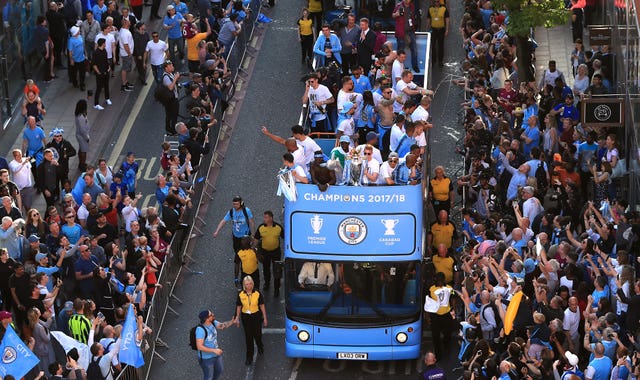 Guardiola said of the crowds: "Thank you for coming guys. We are delighted to share what we have done together. Next season you will see us again!"
Playmaker David Silva and top scorer Sergio Aguero were not involved. Silva has returned to Spain to be with his young child, who was born prematurely earlier in the season. Aguero, who has a knee injury, has been given permission to report for international duty early ahead of the World Cup.
Silva, who was given leave whenever he requested it during the season, sent a recorded message.
He said: "Thank you for understanding my situation. I will be in debt with you forever. Thank you very much."
Silva also expressed his gratitude to long-serving team-mate Yaya Toure, who is leaving City this summer.
He said: "In future I will be able to tell my son I played with the best African footballer ever. I wish you the best of luck."
A number of other players were also given opportunity to speak, including Raheem Sterling and Kevin De Bruyne. The pair are likely to come up against each other in the summer as Sterling's England face De Bruyne's Belgium at the World Cup.
Asked how he intended to stop De Bruyne, Sterling quipped: "He has to stop us!"