New Everton manager Marco Silva will not stand in Wayne Rooney's way if he wants to leave his boyhood club for Major Soccer League's DC United.
The 32-year-old has been in talks with the American outfit over the last few weeks despite having only rejoined the Toffees 11 months ago after 13 years at Manchester United insisting he still had a point to prove.
However, despite having a year left on his contract Rooney is considering leaving for MLS and Silva will not plead with him to stay, although the Portuguese said the door was open any time he wanted to come back to the club.
"Before I arrived it was something that had already started," said Silva at his first press conference after being appointed manager.
"It is something we expect, in the next few days, we will talk with Wayne Rooney (about) because he is a club legend and we need to understand everything.
"The door is open every time for him. We will talk with him but it is Wayne's decision."
Everton's new director of football Marcel Brands echoed Silva's thoughts, insisting he would want to work with Rooney in some capacity in the future.
"There is a possibility he could leave. He is talking with Washington, it is not a secret," he said.
"Of course we will talk with him and if this is a move he wants to make and is the next step in his career then I can only hope he will return when he is finished there because I think he still is a legend in this club.
"I always hoped do to that in (former club) PSV and I hope to do that here, to use the legends at the club."
Silva has a huge job on his hands to change the direction of the club which had slipped during predecessor Sam Allardyce's six-month stay.
He inherits a bloated squad, which requires serious pruning and new blood adding, and will tackle that issue first before he addresses introducing a more positive playing style.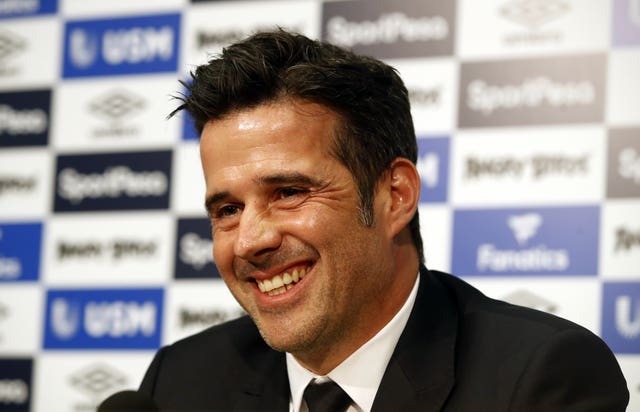 "I have big names but the (transfer) list is not so big because what we have in our own hands is important.
"It is a huge club with a huge story behind it. It is a big project and a big challenge for us as a technical staff.
"But at the end everything that is important are the results. We will work to make the club better every single day.
"It is easy to understand the culture and identity of the club. I know what the fans expect and want to see every time in (their) team: big commitment, big attitude, always a big motivation and big ambitions."
Silva was Everton's first choice to replace Ronald Koeman when he was sacked in October but Watford rebuffed the approach.
However, a slump in results saw them dismiss him three months later blaming Everton's interest as a contributory factor.
To that end Watford still expect compensation from Everton, having taken the matter to the Premier League, but while that is still to be resolved Silva wants to move on.
"I don't want to talk about the past," he added.
"I have great respect for all the clubs I have worked for. The past is not important, what is important is that I am really happy to be here to talk about the present and future."