World Rugby vice chairman Agustin Pichot thinks the game is losing something following England's selection of Brad Shields.
Shields joined Eddie Jones' squad for the first time when arriving in South Africa on Sunday ahead of the three-Test series against the Springboks and is in contention to start the opener in Johannesburg.
The Kiwi flanker, who will play for Wasps once his Super Rugby commitments are over, qualifies for England through his parents but his elevation into Jones' squad at the first available opportunity and before appearing in the Aviva Premiership has drawn criticism.
Now Pichot has sounded his own note of discontent having campaigned extensively on the issue of eligibility, responding pointedly to a Tweet from New Zealand broadcaster Keith Quinn who described a photo of Shields in a Red Rose jersey as "sad".
"Algo se esta perdiendo (something is missing)…We are losing something…. the game is losing something…." the former Argentina captain said on Twitter.
As is customary for all new England players, Shields addressed the squad at their Umhlanga training base by way of introduction and did not train until Tuesday due to the jet lag accrued during the 22-hour flight from New Zealand to South Africa.
Exeter's Don Armand topped a list of established Premiership flankers who pressed for inclusion ahead of Shields, while Gary Graham, Jono Ross, Ben Curry, Zach Mercer, Jamie Gibson and Teimana Harrison also have strong claims.
However, it is potentially Chris Robshaw who has the most to lose as the incoming 27-year-old Hurricanes captain possesses a similar skill set equally founded on a high work rate.
"There is competition in all places. That is where we are as a squad," Robshaw said.
"Of course you want to be in that starting XV, but you want to help each other get better and if we help each other get better then we will be a better squad.
"It is always exciting when new guys come into camp because they bring in new ideas.
"They might do a breakdown drill completely different to anything you have seen before.
"That is why it is great to work with different coaches and players because you get a more rounded game.
"Brad is a good lad – hungry and seems like a good lad to have around. We are getting to know him a bit.
"He has been a good guy to have around and is hungry to learn and get involved. We are always looking to learn and improve and hopefully he will help us with that.
"In training he was a good lad, carried hard and got his body in the way. His line-outs and scrums were good. He has fitted in well."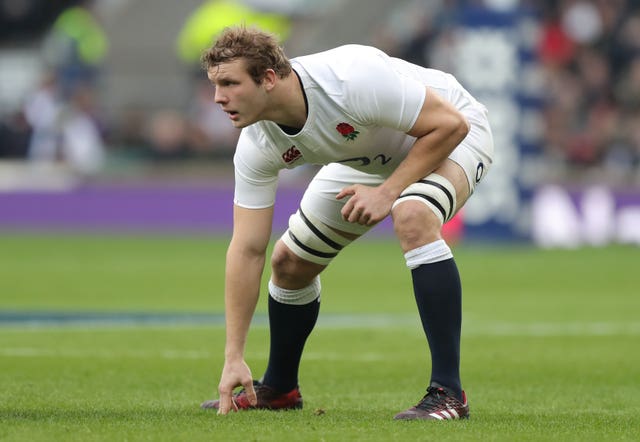 If Launchbury fails to recover in time, Nick Isiekwe will be drafted into the second row alongside Saracens colleague Maro Itoje with Jonny Hill stepping on to the bench.