Tyson Fury will carry a significant advantage into his comeback bout against Albanian Sefer Seferi in Manchester, despite shedding eight stone to get himself back into fighting shape.
Fury weighed in at 19st 10lbs at a good-natured weigh-in on Friday, making him a full four stone and nine pounds heavier than Seferi, whom he whisked off his feet and cradled in his arms as if to labour the point.
His weight makes Fury more than two stones heavier that he was for his last fight against Wladimir Klitschko in November 2015, in which he won the world heavyweight title before his career threatened to spiral out of control.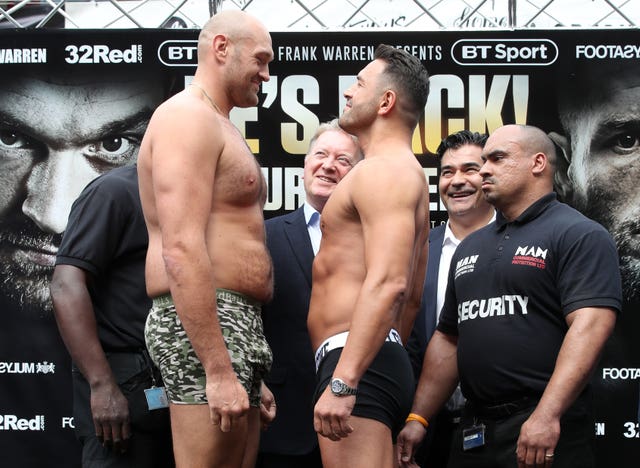 The 29-year-old is adamant his evident success in shaping up for a ring return will increase his popularity levels and, more importantly, serve as an inspiration for others who may be going through similar health issues.
Fury said: "I've had massive support throughout all my troubles, everybody's really been helping me and spurring me on.
"This isn't just me and my team, it's me and the whole nation. I seem to have everyone behind me and I'm coming back and fighting for them.
"I'm fighting for people who need inspiration and help – people who suffer from mental health problems as well.
"It's living proof if I can do it, then anyone can do it. To come from 27 and a half stone and to get to fighting level for Saturday night, then that is a statement, isn't it."
Fury is clearly intent on reclaiming the world title belts he felt were wrongly stripped from him in the wake of his win over Klitschko, and in particular securing a major showdown with reigning champion Anthony Joshua.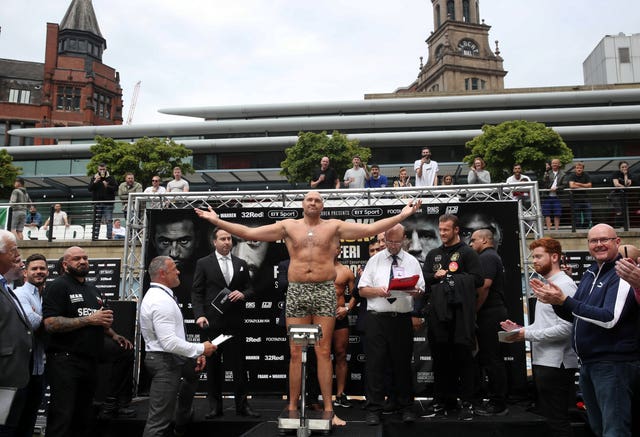 There is no doubt Seferi can punch – 21 of his 23 wins have come inside the distance – but all his wins have come at cruiserweight, and his only loss was to heavyweight contender Manuel Charr in September 2016.
"I'm not here to dwell on the past, I'm here to move forward," added Fury. "That is all in the past so let's move on to the next chapter  – the new Tyson Fury, the people's champion. There's no negativity here."