Staging the 2026 World Cup in North America will be "transformative" for football in the region and worldwide, the leaders of the joint bid said after their crushing win over Morocco.
Canada, Mexico and the United States defied predictions of a close race at the 68th FIFA Congress by claiming two thirds of the votes, winning 134 to 65.
US Soccer Federation boss Carlos Cordeiro, one of the United bid's three co-chairs, was almost in tears when the result was revealed on the giant screen in Moscow's Expocentre and told reporters afterwards it was "a hugely emotional moment" for the entire team.
"Bringing the World Cup back to North America will be transformative for soccer in my county and Canada and Mexico," said Cordeiro.
"It will more than reengage the grassroots game, it will revolutionise it. We have three and a half million registered players in my country and I would like to see that double or triple.
"We want soccer to be the preeminent game in the US and that goal matches the demographic changes in the country that already unfolding.
"But this wasn't a vote at the United Nations – it was a football vote and the member associations did what is best for the game.
"When we went around the world talking to voters we spoke a lot about development and FIFA's Forward programme. That costs money and the opportunity our bid presented will drive that forward."
While Cordeiro and his colleagues have spent the last few months extolling their bid's numerous strengths, the reality is there are 11 billion reasons why United beat Morocco, as that is the projected profit in dollars, a return that is distributed to FIFA's 211 members.
Morocco, which has now lost five World Cup bids, could only offer half as much.
With dozens of large, world-class venues to choose from, access to the world's richest sports market and no need to build anything, the United bid also scored well on FIFA's technical assessment.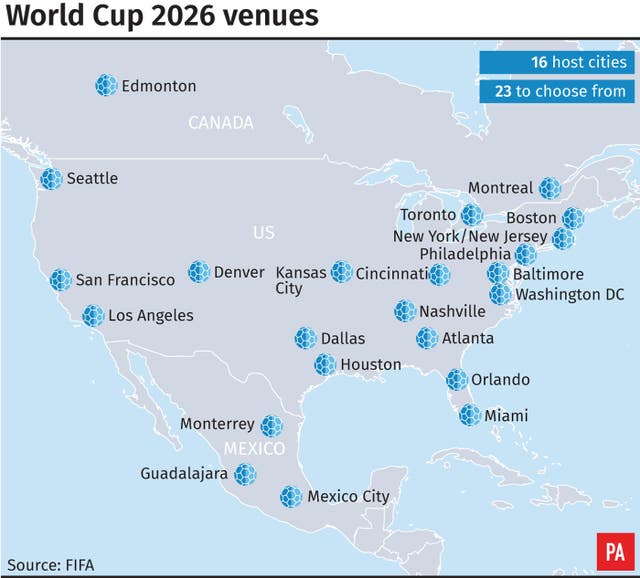 In the past, such a claim would not have mattered, as England and Qatar demonstrated in different ways in 2010, but with FIFA keen to prove it has learned from past controversies the credibility gap between United's certainty and Morocco's ambition was repeatedly underlined by football's governing body in the build-up to the vote.
But still, because this is FIFA, Morocco had hope.
Much of that optimism depended on the belief that enough countries were so annoyed with US President Donald Trump they would not be able to stomach handing him a public-relations coup, particularly after his crass attempts to bully voters into the United corner via Twitter.
As it turned out, the North American bid was right when they said they were better together, global football chiefs have thicker skins than most and Trump's promise to play ball in regard to World Cup visas was all the FIFA family needed to hear.
Canadian Soccer Association president Steve Reed summed it up when he said: "The politics of today are not necessarily the politics of tomorrow or five years down the road. We have had overwhelming and very strong support from all of our governments."
The Moroccan team looked devastated when the defeat's extent was revealed and they left the scene quickly – but not before Moroccan FA boss Fouzi Lekjaa magnanimously congratulated the North Americans and wished them well.
They will be particularly disappointed their appeals to African and Islamic unity did not bring more support and some of their backers clearly switched sides late in the piece – most notably Russia, whose president Vladimir Putin had enlivened proceedings by making a surprise visit to address the delegates before the vote.
But when the emotions subside, they will realise they were up against a juggernaut and the move to a 48-team tournament – with 80 games – only made their task harder. The relieved look on FIFA president Gianni Infantino's face afterwards said it all.
Lekjaa did sound one defiant note, though, saying he would try again "to realise some day our dream to host the World Cup in Morocco".
Shortly after that speech, however, word arrived from the man who was meant to have delivered the 2026 World Cup to his country, Trump.
The president tweeted: "The US, together with Mexico and Canada, has just got the World Cup. Congratulations – a great deal of hard work!"