Andy Murray is hoping Nick Kyrgios' "unpredictable" nature means there will not be too many draining points as he prepares to make his comeback against the Australian.
The two-time Wimbledon champion decided on Saturday that he will end an 11-month injury absence at the Queen's Club next week, but would be forgiven for wishing he had not after immediately drawing Kyrgios in round one.
Kyrgios is a supreme talent, though prone to losing his way on court. Murray has never lost to him in five meetings, yet surely would not have picked him as his first opponent following hip surgery.
"He's got a brilliant serve and obviously he's very, very talented. He's unpredictable as well. The positive is that there probably won't be loads of long points.
"Points can be quite sharp with him, which is good, but obviously a very tricky match with the way that he plays and how comfortable he is on the grass."
Murray has not been seen competitively since limping out of his Wimbledon title defence last summer.
Hip surgery followed and the 31-year-old finally feels ready to return.
"Obviously I'm looking forward to it," he added. "There are a lot of doubts though as well when you've not played for a long time.
"Coming back from injury you're always kind of second guessing yourself. You never know exactly when you're going to be ready, but I'm looking forward to getting back out there and competing, and hopefully playing well."
Murray practised at Queen's on Friday ahead of next week's Fever-Tree Championships and on Saturday told officials he would be there.
"Andy Murray has confirmed that he will play in the Fever-Tree Championships," the tournament said on its official Twitter account.
Murray played with fellow Brit Cameron Norrie in a relaxed session on Friday but will have a real step up in opposition when he sees Kyrgios over the net.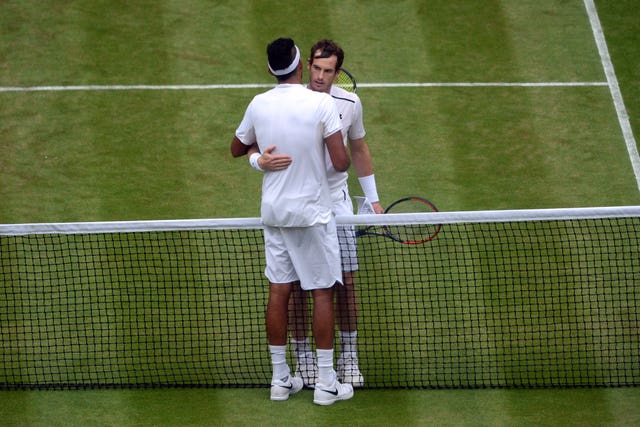 "So, I played probably seven or eight sets, and I wanted to feel how I felt the following day after playing a couple of sets with Cam Norrie yesterday.
"I got tested by my physios this morning to make sure I hadn't stiffened up and lost any range of motion in my hip which can happen when you're tired and the hip's a bit angry.
"That wasn't the case. That was all positive and I pulled up pretty well from that, so then I decided to go for it.'
Elsewhere in the draw, Novak Djokovic will face a qualifier, top seed Marin Cilic faces Fernando Verdasco and British number one Kyle Edmund will take on Ryan Harrison.
Dan Evans will meet Adrian Mannarino with Norrie up against Stan Wawrinka.