Dan Evans is expecting to have to begin this year's Wimbledon campaign at pre-qualifying later this week.
The 28-year-old is on the comeback trail after a drugs ban, which ended in April, and he made his ATP Tour return with a first-round defeat to Adrian Mannarino at the Fever-Tree Championships at Queen's Club.
Evans served for the match in the final set but went down 6-4 0-6 7-5 in London.
Having won 16 out of 20 matches since his return two months ago – all at Challenger level – Evans' form probably warrants a wild card into the main draw at SW19.
He should find out on Wednesday whether he will be awarded one when the All England Club announce some of their selections, but he is preparing to get to SW19 the long way.
"If I want to play a tournament, I have to go for pre-quallies, I'd say," Evans accepted.
"I just play the matches and see how I do. There are some great players now in Britain. We're doing pretty well.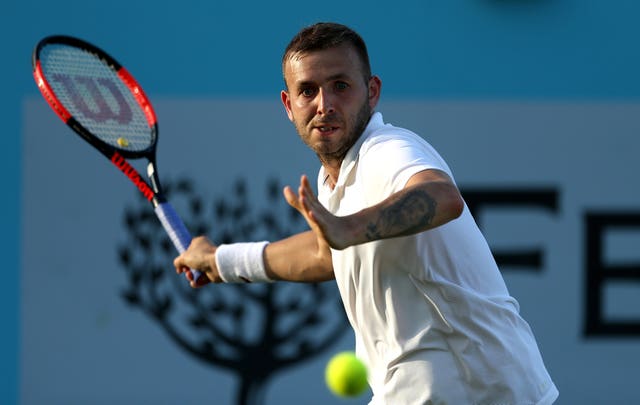 "I'm looking to play pre-qualifying and that's it. My ranking gets me in pre-qualifying. There has been no discussions with anybody about anything, and that's up to other people, not myself."
Andy Murray, whose return to the game saw him lose to Nick Kyrgios at Queen's expects Evans to be handed direct entry into the main draw.
"It's a difficult one. He's obviously played extremely well the last few weeks in terms of his level and stuff. He deserves it.
"Whether or not it's the right message to be sending, I don't know, but then some would say he's obviously served his, you know, his time and, you know, should be given a second chance.
"So we'll see what happens. He's probably got a decent chance of it, I think."
British number one Kyle Edmund is the sole home hope remaining after he beat Ryan Harrison 7-6 (7/4) 6-4.
Edmund will play Murray's conqueror Kyrgios in the next round.
He said: "I'm happy, first win on grass, first match on grass even.
"So to come away with a win in your home country, first tournament, very happy.
"It was okay. A bit frustrating. I got broke in the first set, but, it was good to get the break back, and then I felt like I relaxed a lot more in the match.
"From then on I felt pretty good, and, yeah, it's good to win tonight and not play tomorrow."