England manager Gareth Southgate would choose hat-trick hero Harry Kane over any other frontman at the World Cup.
The Three Lions are basking in the afterglow of a record-breaking win in sweltering Nizhny Novgorod, where early progress to the knockout phase was sealed with a comprehensive win against shambolic Panama.
England's 6-1 victory is their biggest ever at a major tournament, with John Stones' brace and a fine Jesse Lingard strike complementing a treble by Kane.
Just the third Englishman to score a hat-trick at the World Cup, it moved Kane onto five goals and to the top of the Golden Boot standings.
Asked about Kane's current level in a question mentioning Cristiano Ronaldo and Lionel Messi, England manager Southgate said: "Well, clearly the stage to do that is this one. He's started brilliantly.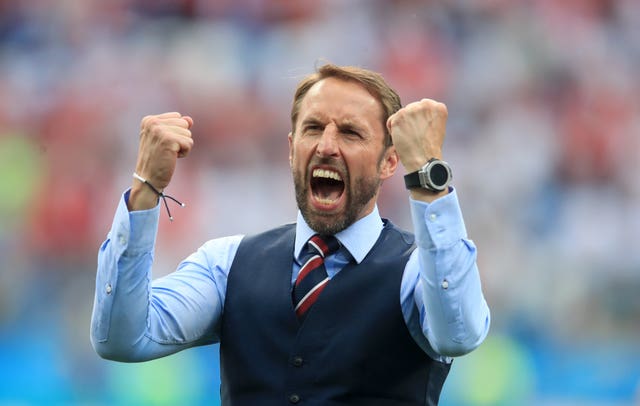 "Look, he's there, he's up at the top. We wouldn't swap him for anyone in the tournament in terms of number nines.
"You know that when he gets opportunities he's going to bury them. You sit there very confident in his ability to take chances.
"But as important in that is the way he sacrifices himself for the team in the way he presses, holds the ball up, contributes to the overall game.
"He's not just a player that stands up front and waits for chances and that's important within the ethic of the team we're trying to create."
Kane went off soon after wrapping up his hat-trick – England's only goal of a second half that was never likely to get near the five struck before the break.
"Just before half-time the game was done today, so it was a very, very strange feeling watching the second half, just trying to encourage the players to keep professional in the way that they played and be a top team by being ruthless.
"I was pleased the captain got his hat-trick because it meant he had the hump less when I brought him off because I know the importance for him of scoring goals.
"Very strange because I think we probably at times played better the other night than we have done today, but today we were really ruthless in front of goal.
"A different type of challenge and I know how many people have been watching at home on a Sunday afternoon, so it was lovely that we could give them goals to celebrate.
"I think they can see what we're trying to do and the way we're trying to play and that the players are enjoying their football.
"You don't get many opportunities to play in a game like that for England."
That is the scenario heading into Thursday's clash with Belgium, who would reportedly rather finish as runners-up.
"We would want to keep momentum and keep progressing as a team," Southgate added.
"I've heard talk of, 'Is it better to finish first or second?' I am not sure how we're going to work all of that out really so let's just go and enjoy the game again.
"It's nice that it's a game where we're not up to our neck in pressure.
"We have got some decisions to make because the harmony of the group is important to me."