Ten years is a long time in tennis and Rafael Nadal needs to pace himself more carefully than in his swashbuckling youth.
Yet, a decade on from his classic 2008 final against Roger Federer, the two men go into Wimbledon as the top seeds and favourites to continue their dual domination of the slams.
In what should be their tennis dotage, particularly in the case of Federer, who turns 37 in August, this could be a seventh consecutive major title shared between the pair.
The dream scenario in many ways would be a first meeting here since that epic 2008 encounter, when Nadal wrested the Wimbledon crown away from his great rival in what is widely considered the greatest tennis match of all time.
Sports stars rarely like to look back during their careers, and Nadal said: "I am not thinking every day about that final. I am just focused on what I am doing today. But of course, in that moment, that final was a very important step forward for me in my career.
"I always have been very clear that probably it's one of the most emotional matches that I played in my career. Everybody knows that for me to win here was one of my dreams.
"After losing two finals, that final created a big impact in my tennis career. The personal satisfaction that tournament gave to me is difficult to compare with other things. Today I see that a long time ago. But the good thing is I'm still here. I am happy for that."
Asked how he is different now, Nadal said with a smile: "Older, more kilometres under my legs. In general terms, important things in life didn't change much. And in terms of as a tennis player, of course I had to adapt a little bit my game during that period of time."
Nadal reached the Wimbledon final every year between 2006 and 2011 – barring 2009 when he was injured – winning the title twice. But since then he has failed to get past the fourth round, the adjustment from his favoured clay to grass becoming increasingly problematic for his knees.
Last year looked set to be different until he ran into an inspired Gilles Muller in the fourth round, and he made no secret of how painful that loss was because of what he felt he could have achieved.
The 32-year-old pulled out of the Fever-Tree Championships at Queen's Club for the second successive year to allow his body a bit more rest after landing his 11th French Open title.
And he will hope to match the impressive run through the first week of Wimbledon that he managed 12 months ago.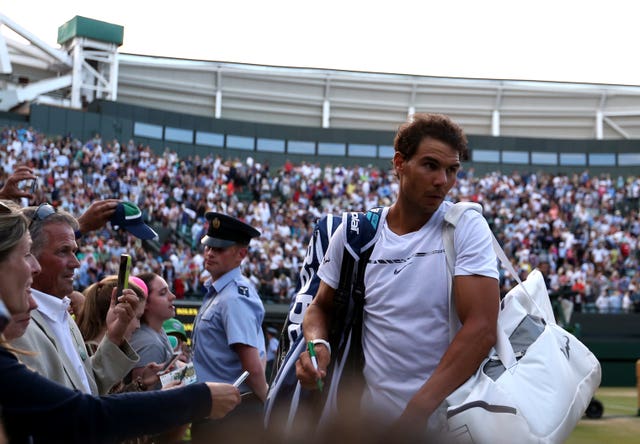 "Expectations are always high," said Nadal. "I am not here to play the tournament, I am here to try to have a good result, of course.
"But it's true that it is one of these events that you arrive here and you really don't have the previous feeling of how you feel, how you are playing, how you are not playing. It's an event that you need to find your confidence during the tournament.
"I'm feeling good. It was not positive for me, of course, to not play Queen's. I was sad to not have the chance to be there. I am not 20 any more. I have to take decisions on the schedule sometimes. The body needed a rest, needed a slow adaptation to the grass. That's what I did."