Kieran Trippier has laughed off his 'Bury Beckham' nickname, admitting the Manchester United star he most admired growing up was Gary Neville.
The wing-back's new moniker has been gaining traction on social media due to the quality and consistency of the crosses coming from his right boot.
His corners have been a major factor in England establishing themselves as one of the World Cup's most dangerous set-piece sides, while he has also been a threat from free-kicks and from open play.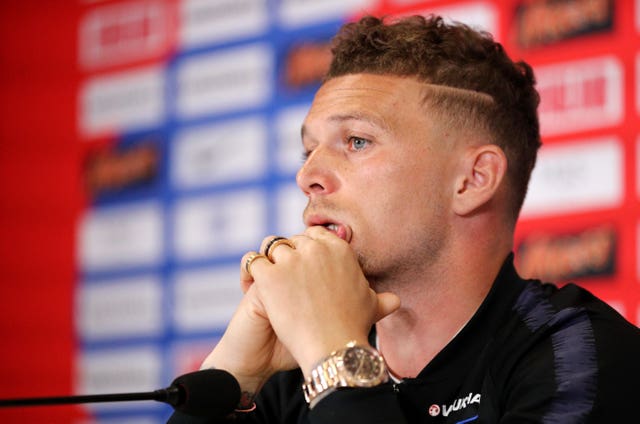 "Loads of people are saying this but I don't think I'm anywhere near David Beckham's qualities," he told BBC Radio 5 Live and talkSPORT.
"He was a fantastic deliverer of the ball – set-pieces, dead balls. He scored so many free-kicks and created so much throughout his career. All I can do is keep doing the best I can and any opportunity I get I'll try and put balls in like David Beckham.
Trippier was brought up as an avid Manchester United fan – an allegiance he kept alive despite spending more than a decade coming up through the Manchester City youth system.
And when he was looking for inspiration as an up and coming full-back, it was Old Trafford that he looked to.
Neville was England's first-choice right-back the last time they reached a World Cup quarter-final in 2006 – the same prize Trippier will be chasing against Colombia on Tuesday.
"Gary played a similar position to me. He's a Bury lad, just round the corner from me," he said.
"Defensively he was a quality player throughout his career at United and with England. Just look at the trophies he's won, they speak for themselves.
"It was his energy, to go up and down for 90 minutes, and his leadership as well. Watching him as a leader of the back line, he was always organising and that's important. You could see he was
passionate. Not many people got past him.
Trippier arrived on the international stage just too late to work with Neville during his spell as Roy Hodgson's assistant, a relationship he would have relished.
"I wasn't here when he was part of the coaching staff but it would have been nice to work with him and learn from him," he said.
"I've said hello to Gary, just a quick chat and stuff, not a deep conversation. Hopefully down the line we can."