Chris Froome plans to swipe back at Tour de France fans upset that he is competing at this year's race.
Froome will compete at the Tour after he was cleared by cycling's world governing body, the UCI, of any wrongdoing in a doping case.
The four-time winner, 33, had always protested his innocence in the case, which stemmed from a dispute over what constituted a 'permitted level' of the asthma drug salbutamol found in his urine.
Froome accepts there is "always some kind of confrontation out on the road" at the Tour de France, but he fears it may be even greater this year following his anti-doping case.
"We've raced under trying circumstances at the Tour for the last six years," Team Sky leader Froome told BBC Radio 5 live's Bespoke podcast.
"There is always some kind of confrontation out on the road, but it's always a minority and it's just something you have to deal with."
Froome said he had urine thrown at him during the 2015 Tour, and he was booed by fans when passing through rival Romain Bardet's home region last year.
When he won the stage-19 victory that set up his Giro d'Italia win in May, a spectator carrying a giant inhaler ran alongside the Briton.
Asked what he would say if someone did the same at this year's Tour, Froome replied: "Go jump."
Froome had faced the prospect of being barred from entering this year's Tour by race organisers due to ongoing uncertainty over an adverse analytical finding related to a test at the 2017 Vuelta a Espana.
But the UCI closed proceedings on Monday and Froome said it had lifted a "huge weight" off his shoulders.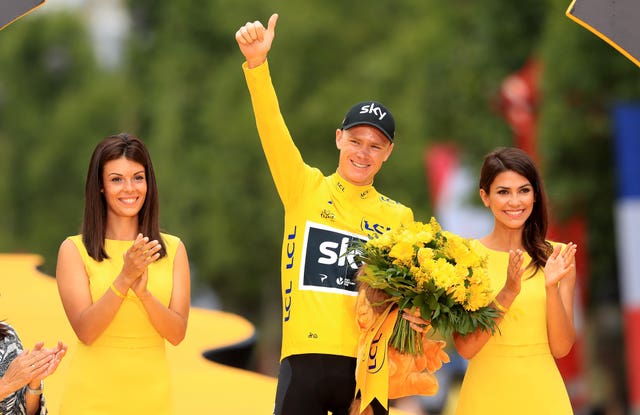 "From the outset I've known I've done nothing wrong. I've always had that confidence, but it's obviously been quite difficult reading all these things in the media and opinions that have been completely distorted by facts that weren't correct being leaked into the public domain.
"It was definitely a difficult process, but it feels like a huge weight has been lifted off my shoulders now."
Tour organiser ASO had said Froome taking part could "damage" the race.
Froome is looking to join Eddy Merckx, Miguel Indurain, Jacques Anquetil and Bernard Hinault – who last month urged riders to strike in protest against the Briton's participation – as a record five-time Tour winner.
He is also seeking a fourth Grand Tour win in a row – following successes at the Tour and Vuelta in 2017, and this year's Giro – which would equal the record set by Merckx in 1972-73.
"This is the biggest challenge I've faced to date and I can't wait to get stuck into the racing side of things again," he said.
The decision to exonerate Froome is likely to leave both the UCI and WADA with questions to answer.
The UCI has been criticised as a result of the case ending up in the media, while WADA could face legal challenges from athletes it has previously banned as a result of excessive salbutamol samples.