Jos Buttler's prolific form has inked him in as England's Twenty20 opener, but he will drop down again if it is for the good of the team.
Buttler took his remarkable run of half-centuries to a sprint-format world-best seven in eight innings as England nonetheless suffered an eight-wicket defeat against India at Old Trafford.
It is a sequence which began when Rajasthan Royals deployed the wicketkeeper at the top of the order in the Indian Premier League, and has continued on home soil for his country.
Buttler's brilliance could not offset a middle-order collapse to Kuldeep Yadav's left-arm wrist-spin – unfamiliar to most in England's ranks – before KL Rahul finished unbeaten on 101 as India coasted into a 1-0 lead with two to play in the Vitality IT20 series.
The onus is therefore on England to bounce back in Cardiff on Friday, when the obvious starting point is to prove they can handle Kuldeep.
As for Buttler's opening spot, he said: "It's a fantastic place to bat…refreshing.
"Whether that's me opening forever, I don't know…I'd hope to retain the flexibility.
"I do think it's the best place to bat, but it comes down to the make-up of the team."
He attributes his improvement to more measured mental preparation, learned in part at the IPL.
"When I was younger I didn't pay much attention to that or trust it enough – it was all about technique in practice.
"Being calm is allowing me to make good decisions."
That was not the case for three others, who fell to Kuldeep in the same over – captain Eoin Morgan mistiming a slog-sweep and Jonny Bairstow and Joe Root both stumped first ball off googlies.
Exposure to such skills is hard to come by in England.
"It's very rare, and he's a very good bowler," added Buttler.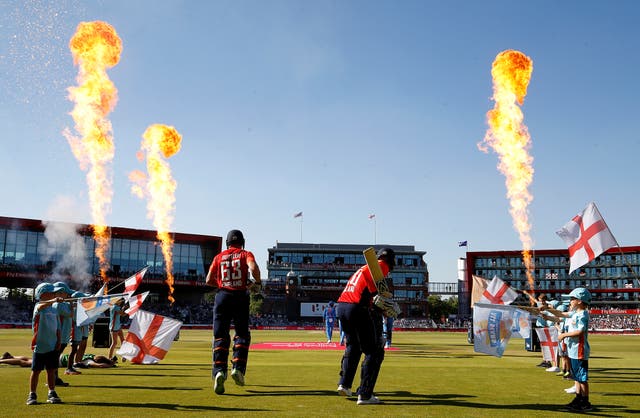 "You see it a lot in international cricket that guys burst on to the scene, and then people get a handle on them.
"We know we are a lot better than we showed during that little phase of the game."
Buttler again stresses the importance of a clear mind.
"It's about understanding you shouldn't get too flustered.
"With spin, it can all happen quickly.
"Suddenly you have faced a few balls and aren't off the mark … so it's not allowing that to affect you."
His stint in India has given him, and a handful of team-mates, an advantage.
"One of the good things has been guys training with and playing against lots of players from around the world in the IPL.
"It helps to take away the mystery factor."
India captain Virat Kohli has suggested English players' increased IPL involvement will help them get along better with this summer's tourists.
That was not obviously the case, however, as David Willey and Bhuvneshwar Kumar exchanged differing opinions in Manchester.
"There is familiarity from being team-mates before, but it's still going to be very competitive," said Buttler.
"These will be highly competitive games, noisy – India are well supported – and it makes for a fascinating summer."
Amid Tuesday's disappointment, there was feelgood consolation for England watching their football counterparts qualify for the World Cup quarter-finals with a penalty shoot-out win over Colombia in Russia.
Video footage showed how much it meant to the cricketers as they celebrated in their dressing-room.
"We've had some penalty heartache before, haven't we?" said Buttler.
"Watching it with the lads, a lot of football fans, it was incredible. We loved it."