Raheem Sterling exemplified England's ability to stay calm in the face of provocation against Colombia, a quality he feels was vital in carrying the Three Lions to the last eight of the World Cup.
Gareth Southgate's side booked their place in the quarter-finals by finally conquering their penalty demons in Moscow but, in order to reach the shootout, they had to endure 120 minutes of ill-temper, gamesmanship and mind games from the South Americans.
With referee Mark Geiger proving a flimsy authority figure, Colombia turned every corner into a drama, attempted to physically block England taking set-pieces and took things up a notch when Wilmar Barrios headbutted Jordan Henderson.
"I just remember running in and someone stepped in front of me," he said of the incident.
"There were a couple of times when I went over for a drinks break and he kept saying something. Obviously I don't speak Spanish so I didn't understand but then there was half-time too. I just kind of looked back at him, but we knew their game plan and exactly what they were trying to do.
"We knew what would get thrown at us and that was kind of silly from him. We just keep going, black that out and focus on the football. They're a physical team. They were trying to do everything they could to get into our heads but we kept cool heads and that's the most important thing.
"It's up to the ref to clamp down it and we can't really get involved in it."
Sterling suggested he would not be seeking any further action against the coach, content simply to leave Spartak Stadium with a quarter-final date against Sweden.
"We're through and happy, we move on," he said.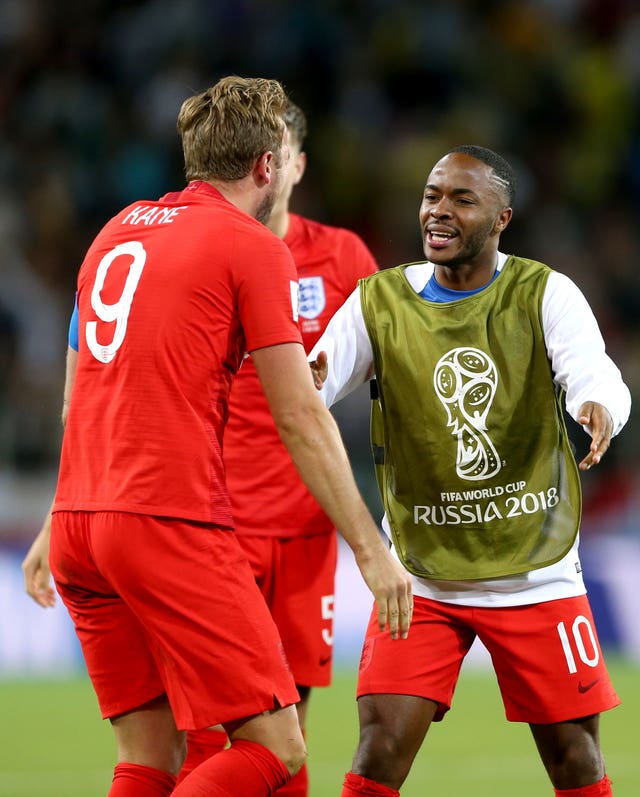 As against Tunisia and Panama, he was bundled, wrestled and shoved at corners and refused to lash out.
When Geiger did award a penalty in the second half he rose above several minutes of squabbling, and a cynical attempt by Johan Mojica to scuff the penalty spot with his boots, to rifle home his sixth goal of the tournament.
"It's credit to him – he works on this stuff in training every single day. Repetition. He keeps a cool head and I had no doubt even in the back of my mind that he wouldn't put it away.
"Before the tournament (Southgate) has given us everything that could be thrown at us – every single possibility from going behind to the opposition trying to get you yellow or red cards. We knew we had to keep our heads."