Former England manager Sven-Goran Eriksson says Saturday's World Cup quarter-final against Sweden will be "their most difficult game so far".
The 70-year-old Swede, who led the Three Lions to the last eight of the 2002 and 2006 World Cups, believes his home nation possess similar attributes to England's Euro 2016 conquerors Iceland.
"England have a great chance to make a World Cup semi-final," Eriksson told the Mirror. "But, if anyone in the squad thinks they have an easy game on Saturday, they're wrong.
"It'll be the most difficult game they'll have played so far, they can bet on that.
"It would be easier for England to beat Brazil than to beat Sweden, in my opinion.
"Sweden will be more or less the same as Iceland in Euro 2016 — they don't have the best footballers in the world, and none of our players would play in the first team of the biggest clubs in the world since Zlatan (Ibrahimovic) has left."
Eriksson added that Janne Andersson's side – who eliminated Holland and Italy in qualifying and topped the group which defending champions Germany finished bottom of – would be hard to break down despite the threat of tournament top-scorer Harry Kane.
"As a team, the way they work together, they are one of the best," he added. "Sweden today are a very hard team to break down.
"You won't find a better team — Sweden are world champions of team spirit.
"Harry Kane will be a tougher challenge than they're used to, but Sweden won't be impressed by Kane – or whoever is in the England team. Not at all.
"I can see a draw and extra-time. England have set-pieces, Sweden will make some chances, but the game will come down to luck – the team that makes the most of their luck will win. It will be very tight.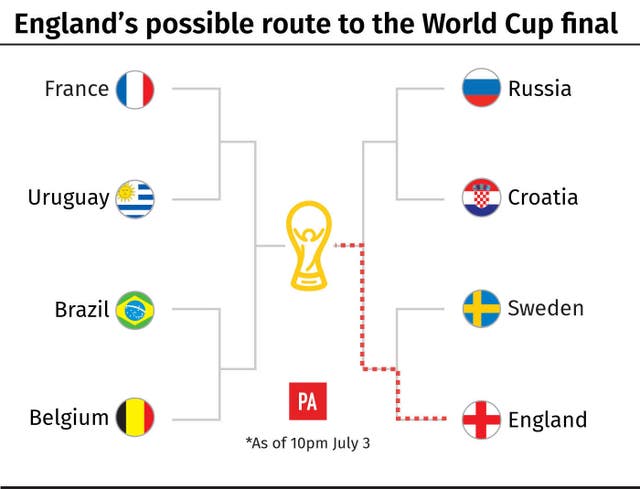 "The defence is a great strength. Especially from set-pieces. Sweden are a tall team at the back and very well organised.
"Both teams will have the problem of scoring. It's a good thing that England are scoring from corners, penalties and free-kicks, and they look very dangerous from these all the time."