Eoin Morgan admits England failed to post a competitive total as India wrapped up the Vitality IT20 series with a seven-wicket win in Bristol.
The hosts' 198 for nine was their third-highest Twenty20 international total on home soil.
But on an excellent pitch, and small playing area, it proved inadequate as Rohit Sharma's unbeaten hundred eased India to a 2-1 series success after a third-wicket stand of 89 with his captain Virat Kohli.
Jason Roy (67) and Jos Buttler appeared to have put England on course to easily top 200 – but after their opening partnership of 94 in under eight overs, momentum was lost, and there was no grand finish either.
A manic conclusion to the innings saw five wickets fall in 15 balls, albeit for 21 runs, as Hardik Pandya finished with a career-best four for 38.
Morgan said: "Those 20 or 30 runs we missed out on, in the back-end of our innings, cost us.
"We did a lot of things right today – particularly that platform set. Jason and Jos were brilliant up front, and almost gave us a licence to allow ourselves to think about 220.
"But the execution of our shots didn't really match up with getting to that total.
"On a good wicket, small ground, we should be better than that."
The tourists were therefore always favourites in the chase, and completed it with eight balls to spare.
"India never really got away from us, but we struggled to take wickets," added Morgan.
"They kept up with the rate, and then it was a position in the 16th or 17th over they could take the game away from us – which is disappointing."
The Irishman does not believe England have to play perfectly to beat India in white-ball cricket – just very, very well.
"I'd say close to," he said. "I don't think we have to play a completely perfect game every time (to beat them) – we proved that at Cardiff. But certainly today they had their day.
"India were probably on top of their game today, and we weren't – and we were just short."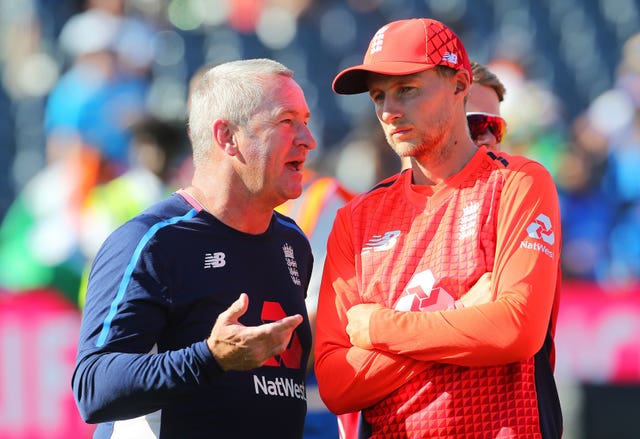 Asked if the conversation with Root is among the toughest he has had as captain, Morgan said: "Yes. Dropping Joe is not an easy decision.
"Trying to win the game on this particular ground, it actually came down to Ben's bowling option.
"If we had Joe as a sixth bowler – which we needed today – an extra spinner against India didn't really match up that well. That was the call we made."
Morgan confirmed Root will return for the start of the one-day international series on Thursday.
"Joe was understanding, but obviously disappointed that he's missing out," he said.
"Obviously that changes, moving forward into the 50-over game."
Pandya, who also helped close out the match with an unbeaten 33 from just 14 balls alongside Rohit, conceded 22 runs in his first over.
He said: "I still remember, after getting hit for 22, I was still normal.
"I've made sure I keep on learning from my mistakes.
"Rohit played amazingly well – he won the game single-handedly.
"We expect that from him – I haven't see anyone hit the ball like Rohit Sharma."