Jos Buttler is ready to replace the 'F*** it' motivational slogan on his bat handle with football mantra 'It's coming home'.
England's big-hitting batsman got into hot water after television cameras spied the private message, a shorthand to remind the Lancashire star not to shy away from taking risks in the middle.
Buttler has revealed the International Cricket Council (ICC) has not made any contact over the crude slogan, but admitted he would alter it if requested – and even to the lyrics of England football anthem 'Three Lions'.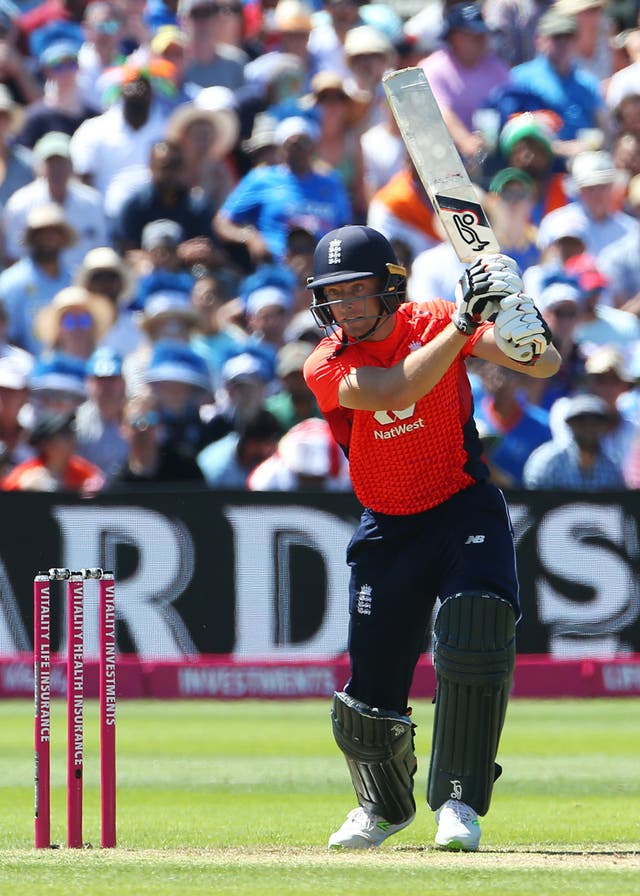 Asked if the ICC had been in touch over his bat slogan, Buttler told Press Association Sport: "No I haven't heard anything. Maybe I'll have to change it to, 'It's coming home!'
Explaining that the private note is to remind him that no risk leads to no reward, Buttler continued: "That's what it means to me, and it's in a pretty hard place to spot, and it's been on there a long time.
"No one's seen it before, and if it's an issue it can be changed."
England's cricketers will come together to watch their football counterparts bid for further World Cup glory on Wednesday night.
Buttler and company will then host India at Trent Bridge on Thursday, in the first of three One Day Internationals.
England's ultra-aggressive attacking batting is characterised no more keenly than by Buttler, who admitted it has been a joy to watch the nation's footballers follow suit under Southgate.
"That's so enjoyable to watch, the footballers pushing to be on the front foot. Being a member of an England side it's great to see that England team going for it," said Buttler, speaking as a Vitality ambassador.
"When Leicester City won the Premier League they were great too, they just had no fear, they really took it on.
"That's the English mentality summed up. And people staying true to that is great to watch.
"For us it's a point of difference, if we're the ultra-aggressive team.
"Because every team has good players, every team has good plans and prepares well and does the right things.
"You need a point of difference, and that's what it's been for us – being all in.
"We'll find a way to watch the match, it's been awesome. They've really gripped the nation, really connected with the public.
"People have enjoyed Gareth Southgate and his demeanour, and the players seem very accessible and a lot of fun."
England will be back at the scene of June's record one-day score of 481 for six in the 242-run win over Australia for Thursday's India clash at Nottingham's home ground.
Buttler also cites Trent Bridge as the scene of England's attacking renaissance itself, owing to their record 350-run chase to beat New Zealand in 2015.
"New Zealand in 2015 when it all started really; we chased down a score there, with Morgan and Root getting hundreds I think," said Morgan.
"It is a ground where we enjoy playing, and for a stellar series like England-India it's a great place to start."
:: Jos Buttler is an ambassador for Vitality, inspiring healthy and active lifestyles. Find out more at Vitality.co.uk