Team Sky's Luke Rowe played down an incident in which he snatched away a fan's banner protesting against the team at the Tour de France as 'a bit of banter'.
Rowe had earlier denied being the rider seen grabbing an A4-sized sign which read "Sky – Go Home" as he headed to sign on before stage five of the Tour in Lorient.
But he came clean 204.5 kilometres later in Quimper, insisting the incident was 'playful'.
"It wasn't meant to be malicious or anything. I don't think he was too bothered. After we went back and gave the kids a bottle each. It was a light-hearted bit of fun, it was no big deal really."
Rowe said he did not apologise to the man when he went back with the bottles.
"I don't think I have to be sorry for anything, do I?" he said. "It was no big deal, just a bit of banter."
The man, local resident Didier Bregardes, told reporters his sign was intended as a protest against the way Sky had handled the Salbutamol case involving Chris Froome, following the test he returned with high levels of the asthma drug during La Vuelta last year.
"When Froome was caught in the act at the Vuelta, the UCI and WADA didn't react," Bregardes said. "I've nothing against Froome or the riders, but it's the way the manager of Sky, (Sir Dave) Brailsford, dealt with it."
Rowe said those comments surprised him given his reading of the situation as it happened.
"That's quite strange, you've spoken to him, I haven't," he said. "He seemed like quite a light-hearted guy when I rode over. He started laughing, I think it was quite light-hearted and no big deal."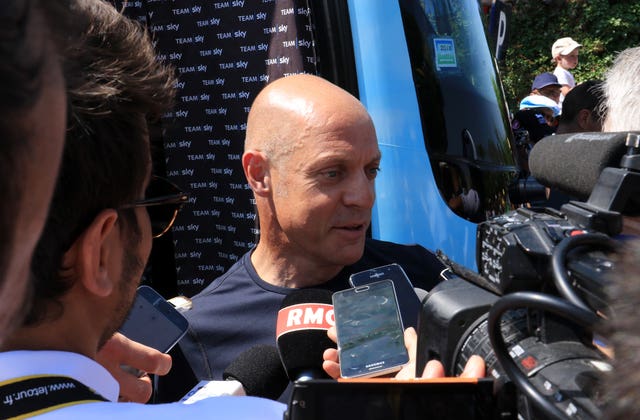 "To a large extent it feels like a pantomime, but as the guy responsible for all the riders and our staff I still have to take it very seriously," he said.
"I know how much work the race organisers have put into security, but some of the fans are behaving the way they are because what they believe is a long way from the truth.
"That's where the guys who have formed public opinion, especially some of the French guys, have such a big role to play.
"Does this pantomime have a darker side to it? That's a fair comment because a lot of people who chuckle and join in, but there are definitely people out there for whom this is not pantomime in the humorous context."