Ivan Rakitic says he would gladly sacrifice the rest of his football career to win the World Cup for Croatia.
Barcelona midfielder Rakitic has played an integral role in his country's unexpected march to Sunday's final against France in Moscow.
The 30-year-old believes there is a special unity within Zlatko Dalic's squad, which extends throughout his proud nation of just 4.5million people.
"I would definitely leave my football boots behind on Monday if that was the price I had to pay to win for my country, to win for Croatia," said Rakitic, according to Telegraph Sport.
"You need only to look at the footage from Croatia to see what's been going on over the past month – the joy felt by the people there; joy, togetherness, unity, pride.
"I think all of us deserve this. It doesn't just concern the 23 players, coaching staff and backroom staff, but the 4.5million people back home. If there was a stadium big enough for 4.5million people, it would be full.
"I'm not trying to say these feelings are superior to the ones the French have for France or Russians have for Russia. We have this special bond. When you put the sacred Croatia shirt on you become another person. We have this togetherness, this unique unity – not just in football.
"We are exceptional in tennis, handball, basketball, water polo. If we were to hold a tournament in ping pong all of us would be rooting for that single player. This is something all of us have in us, and it will be in us to the very last moment."
Rakitic has played almost 70 games this season for club and country, including Wednesday's semi-final win over England.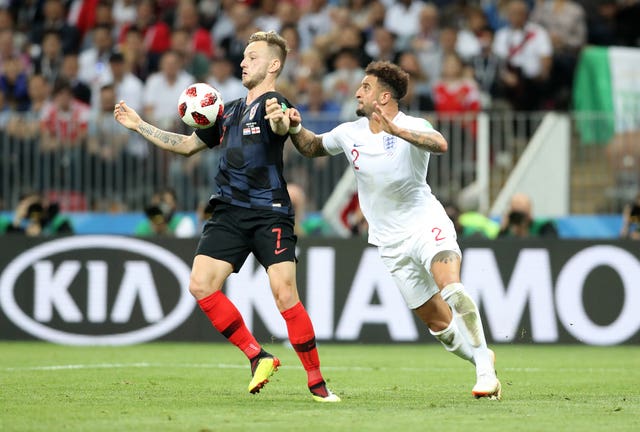 It also sets up a rematch of the 1998 semi-final in Paris, which hosts France came from behind to win en route to their first success in the tournament when they were captained by current manager Didier Deschamps.
Rakitic expects neutrals from across the world to back his nation.
"I have this feeling there will be hundreds of millions of people rooting for us on Sunday," he said.
"I have received messages from Argentina, Spain, Germany, from all corners of the world. This makes me happy.
"People tell me they could never imagine celebrating a goal as if it were scored by their own country. This means we've reached hearts throughout the world."