Novak Djokovic is one set away from a place in the Wimbledon final after edging ahead of Rafael Nadal in their belated semi.
Djokovic took a third set tie-break before their match had to be suspended due to the All England Club's 11pm curfew, with the score 6-4 3-6 7-6 (11/9).
The heavyweight duo, with five Wimbledon titles and 29 grand slams between them, did not start until 8.05pm due to the record-breaking match between Kevin Anderson and John Isner which preceded them.
Anderson and Isner walked on to Centre Court at 1pm for a big-serving showdown which many thought might go the distance.
It was the longest semi-final in grand slam history, and the second longest match ever at a major championship.
Isner will not need reminding of the longest, having taken 11 hours and five minutes to beat Nicolas Mahut at Wimbledon in 2010, and this latest marathon reignited the debate about introducing fifth-set tie-breaks at all grand slams.
"It's pretty tough in the format that we have right now, especially at slams," said Anderson, 32.
"Coming through that match, obviously I'm ecstatic to be through to the finals. At the same time, you know, you feel like it should be a draw. But somebody has to win."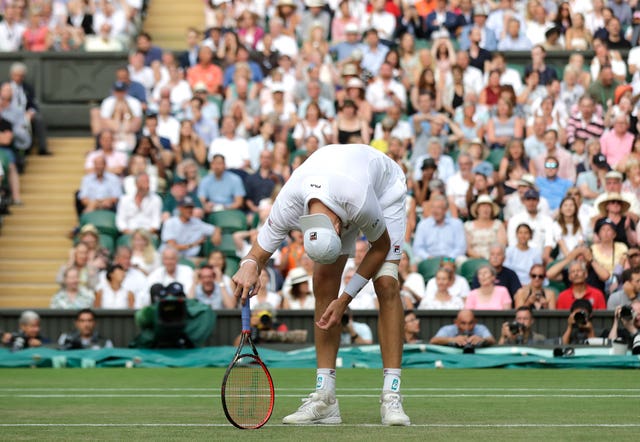 It will be a rematch of the 2016 showpiece against Angelique Kerber which Williams won in straight sets.
But the 36-year-old American believes she is still finding her way back to her best.
"I've said it all week, this is only my fourth tournament back. Every time I go out there, I want to take a giant step forward, keep taking giant steps, but keep improving.
"I don't know what I expected from this tournament. I just expected to win a match, then win the next match.
"Whenever I go out there, I just try to win my match. That's literally all I do."