John Isner has apologised for "screwing the schedule up" at Wimbledon after his record-breaking semi-final against Kevin Anderson.
American Isner lost a deciding set 26-24 on Centre Court on Friday, with the match lasting six hours and 36 minutes.
That made it the longest ever played on Wimbledon's main show court and meant Rafael Nadal and Novak Djokovic could not complete the second semi-final before the tournament's 11pm curfew.
Nadal and Djokovic battled away under the roof and with the lights on, but after the latter edged a third-set tie-break to open up a two-sets-to-one lead, organisers had no option but to end play for the day.
The match had to be allocated a place on Saturday's schedule to play to a finish and Wimbledon duly adjusted its familiar routine for women's final day.
Rather than begin play with the women's title match at 2pm, the Nadal-Djokovic resumption was handed a 1pm slot, to be followed by Serena Williams' clash with Angelique Kerber.
Isner wrote on Twitter: "Headed home. I appreciate all the encouraging messages from everyone. Congrats to @KAndersonATP on the win and best of luck in the final. More importantly, thank you for your class and humility in victory. @Wimbledon see you next year. Sorry for screwing the schedule up today"
Both Anderson and Isner suggested final-set tie-breaks might present an option that Wimbledon consider in the future, to avoid similar stalemates.
That view was also put forward by former Wimbledon stars John McEnroe, Boris Becker and Tim Henman.
Henman is a board member at the All England Club, whose chief executive Richard Lewis will need convincing that such a quick fix would suit Wimbledon.
Lewis told BBC World Service: "I'm not sure I often see a match that's fantastically exciting, with great tennis, the crowd are really into it and then suddenly it all finishes with a tie-break. Sometimes I think those are the matches that should continue, and there's a balance to be struck.
"Yesterday I think everybody including the two players and I'm sure the umpire would say it went on too long probably, but it was still very dramatic. So I think when the dust settles and the championships is finished and we have the chance to go through it and debrief and reflect, just like everything else we'll give it some thought and not make a hasty decision.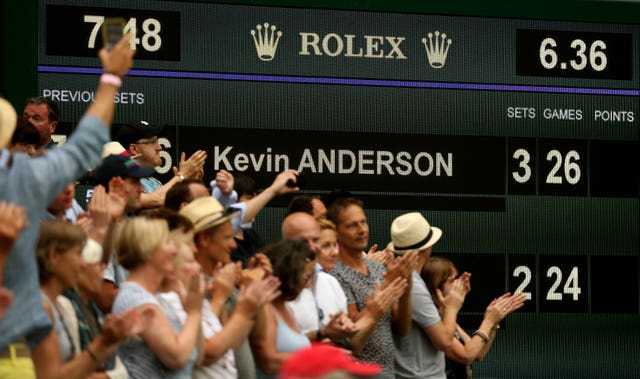 "It has its merits but it also has its downsides as well. Many, many people love those long, long final sets, and it was only two days earlier that Roger Federer went beyond six-all and nobody was calling for a tie-break then."
Anderson, who ousted Federer 13-11 in the decider of their last-eight match on Wednesday, advances to his first Wimbledon final.
The 32-year-old South African wrote on Saturday morning: "There were so many emotions after the match yesterday. Reaching the final at @Wimbledon has always been a dream for me."