England's remarkable World Cup semi-final run has come with a dose of reality that is fuelling manager Gareth Southgate's desire to keep developing and evolving.
Football is not coming home this summer but this bold, young side have managed to reconnect with fans that had become disillusioned over the years.
England's players took the advice to write their own stories and managed to reach the World Cup semi-finals for the first time in 28 years, only just falling short of Sunday's showpiece finale.
That agonising 2-1 extra-time defeat to wily Croatia was compounded on Saturday as Belgium's 'Golden Generation' won the third-place play-off 2-0 in St Petersburg.
Both matches underlined Southgate's belief that his semi-finalists are still not a top-four team, but the Three Lions boss hopes to use the summer as a springboard looking ahead to Euro 2020.
"I think we are very realistic about the level that we are," the England manager said.
"It's been really nice. We've had a lot of praise but also balanced with that a lot of reality as well.
"We don't kid ourselves at all. We know exactly the areas that we hope to get better in, and we really enjoy working with this group of players.
"We're not in club football where we have a chequebook where we can go and buy new players. We have to coach and develop and improve as a group.
"That then requires the players to have a willingness to learn and improve, and they've shown that in abundance over the last seven weeks in particular so that continues.
"It's nice that we've reached a semi-final because that builds belief and it gives some momentum to the team.
"But we're also very realistic about the constant need to keep improving."
Regardless of the work to come, England head home as heroes and will enjoy some much-needed downtime before the club season starts in earnest.
It is also only eight weeks until England reconvene and kick off the inaugural UEFA Nations League campaign against Spain at Wembley.
"We now have some big fixtures in the autumn, playing the likes of Spain, Switzerland and Croatia," Southgate said.
"So they're great opportunities for us to develop, to improve, to try things, to look at players.
"And we have to just constantly try to evolve and improve, and I feel that we continue to do that as a team.
"We've done that particularly over the last eight months and we've ended up having a brilliant adventure here that every member of our party – players and staff – have enjoyed immensely.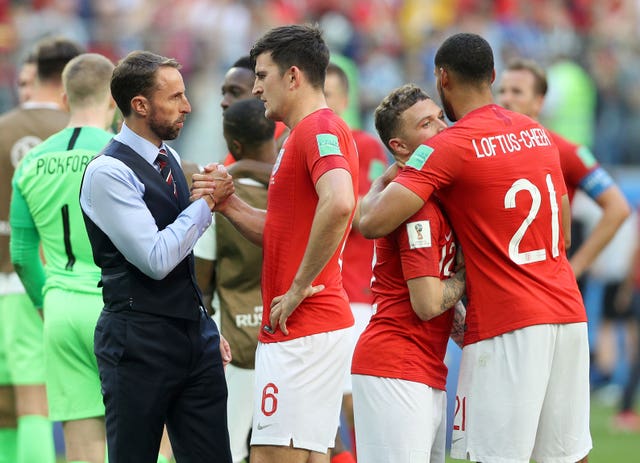 Southgate and his group have learned a lot from their time in Russia, but the fact they were just 20 minutes from a World Cup final will continue to haunt them.
It is a missed opportunity that the England manager recognises, yet the former defender could not ask any more from his young side.
"Initially I felt it was important to tell them how proud I was of how what they've done, recognise how far they'd got," Southgate said.
"We've not won a knockout game for 12 years with far more experienced teams than this one.
"We also recognised after the semi-final where we stood, which is exactly what we found out again today.
"We haven't hidden in terms of where we see our progress. We haven't hidden in terms of what we think needs to improve, but we leave here having progressed a lot as a team.
"The performances are performances they'll have learned a lot from, in victory and in defeat.
"Now we have to look to the future."