Defending Open champion Jordan Spieth believes his generation is the best and most fearless in the history of the game – and he is currently at the head of it.
Last year under-25-year-olds won 40 per cent of events on the PGA Tour and while that number has dropped this season, young Americans have dominated the last five majors.
Spieth, 25 in 11 days, leads the way with three career majors but not far behind is 28-year-old Brooks Koepka who successfully defended his maiden US Open title last month.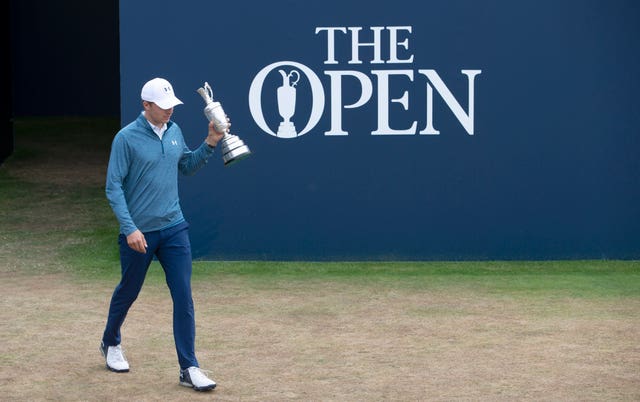 "We had an extremely strong class of players out of the United States in my graduating high school class and classes around us," said Spieth after handing back the Claret Jug on his arrival at Carnoustie for the 147th Open.
"Our class has a ridiculous number of worldwide wins, the 24-year-olds or whatever, the 2011 high school class.
"It's kind of absurd and would compare probably better than any other class in maybe the history of the game.
"The deeper fields we've experienced in junior and amateur golf led to quick transitions onto the PGA Tour.
"So maybe when it took five years to transition guys into winning 10, 15 years ago it's taking guys five months now and whether it's five times faster or 10 times faster you're more well prepared for majors.
"It's a natural transition into, kind of, fearless golf at the highest level. I think that's what you are kind of seeing out of the 20-something-year-olds."
Spieth's last win was actually his Open triumph at at Royal Birkdale 12 months and he has been overtaken by Thomas, who has four since then to propel him to world number two.
The three-time major winner admits he has struggled with his game but feels a much-needed recent break has helped him refocus, especially after taking the same holiday he did a couple of weeks before Birkdale.
"I went to Seattle. My little sister was cheerleading at the US Special Olympics," he added.
"I hadn't been up to Seattle since the US Open at Chambers Bay (which he won in 2015) so I went out to Chambers Bay with Michael (Greller, his caddie) and we walked down the 18th hole and it was cool reliving those memories.
"And then I went to Cabo (in Mexico) with some friends like I did last year. I kind of went through the same schedule.
"I had the itch to get back to it after a couple of weeks of not really working and it was nice to kind of start from scratch.
"I feel like I'm in a position now with every part of my game, I attacked the places that really needed some strong work.
"That combination with an Open Championship, the way it needs to be played, I think, is a really good spot for me to kickback into shape."