Novak Djokovic's coach described his Wimbledon triumph as the biggest surprise of their long partnership.
The 31-year-old put two years of struggles with motivation, confidence and fitness behind him by beating Kevin Anderson 6-2 6-2 7-6 (7/3) to win his 13th grand slam title.
The presence of Marian Vajda in Djokovic's box was no doubt a factor after the pair reunited in April. The Slovakian coached Djokovic from 2006 to May 2017, when the former world number one made the shock announcement that he had parted company with his whole team.
Djokovic had just suffered dispiriting back-to-back losses to Taro Daniel and Benoit Paire in Indian Wells and Miami when Vajda began putting the pieces back together.
He said: "When we met first time I explained to him the process of self-belief, it has to be done a certain way. He understood that. We stuck to the routine. Obviously he found out he has to go through the matches and he has to really start fighting and get the mental strength."
There was not instant progress but his game began to come together on clay before a painful quarter-final loss to Marco Cecchinato at the French Open, after which he said in a tetchy press conference he might not even play on grass.
"After his terrible interview after Paris, almost not playing the grass court, he found himself right away from the first day in Queen's. I didn't believe so much during the (Wimbledon) semi-final he can beat Rafa (Nadal) because Rafa was mentally much better and winning grand slams but something amazing happened in the fifth set.
"I didn't expect to win Wimbledon. This is the biggest surprise from all the years I was with him."
Hard work and getting back to basics were the virtues that Vajda impressed on Djokovic.
"He stopped for six months, and if you play violin and you stop for six months, you cannot play any songs," said the 53-year-old. "He didn't play the songs, and you have to practice, practice, practice until you break the racket, strings, everything and the routine comes back, the body remembers.
"I just bring him the same routine, the calmness, the postiveness, the confidence in what he's doing. I see him in his eyes."
Vajda had already taken a step back when Djokovic hired Boris Becker ahead of the 2014 season, but the split came as a shock to the tennis world.
"I am very close to him (Djokovic) but he made a decision and I am not suffering for that. He suffered a lot but I just didn't want to be involved for a time. It wasn't a punishment, it's just the way he did it. I thought Andre would really help him – you make a bad decision but you don't have bad intention."
Djokovic and Vajda have been taking their new partnership tournament by tournament and, although there is still no long-term contract, there seems no chance of them separating again any time soon.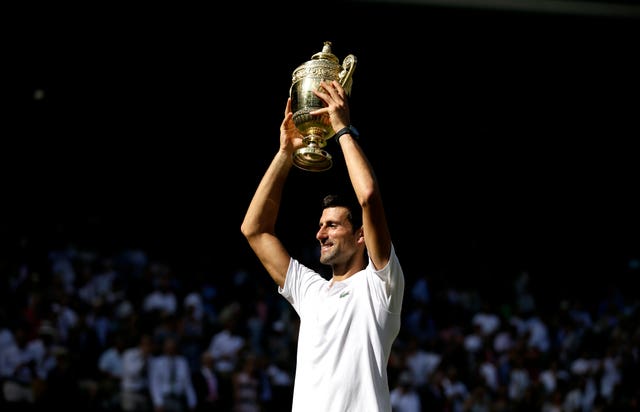 The next major target for Djokovic will be to try to add another slam title at the US Open, where he had made at least the semi-finals every year since 2006 before missing out last year through injury.
He said: "I understand that people are questioning whether I can consistently play on this level. Trust me, I am, too. At the same time I can't look too far on the road because I have to embrace and cherish this kind of accomplishment.
"This is going to be a huge confidence boost and springboard for whatever is coming up. I don't know what's going to happen. But I like to play on hard courts. US Open was always a successful tournament for me. I'm looking forward to going out there and playing my best and see where it takes me."