Rory McIlroy believes he and his rivals have to learn to deal with a different version of Tiger Woods after he returned to contending in majors again.
While the 14-time winner is trading comeback stories with good friend Serena Williams, who has 23 grand slam singles titles, after their Open and Wimbledon near misses, his contemporaries will be trying to work out what this means for them.
Woods was so close to a fairytale return to the Open at Carnoustie after a three-year absence, eventually coming up three short of eventual winner Francesco Molinari, having led around the turn in his final round.
But the performance at least showed he can contend again after four back operations which threatened to end his career.
"It's not (the) Tiger that, you know, Phil (Mickelson) and Ernie (Els) and those guys had to deal with. It's a different version," said world number eight McIlroy, whose charge came too late as he finished in a share of second two shots back.
"But he's right there. He's getting himself in the mix. He looked good in (Washington) DC a couple weeks back (where he tied fourth at the Quicken Loans National). He's looked good here.
"He does things that maybe he didn't do 10, 15 years ago, but it's still great to have him back. It's still great for golf.
"He's healthy. I wouldn't say we're worried about him, but he's one of those guys that's always in with a shot."
Woods is expecting to hear from Williams, who lost the Wimbledon final to Angelique Kerber earlier this month, where they will discuss how their respective comebacks are going.
"Serena and I are good friends. I'm sure she'll probably call me and talk to me about it because you've got to put things in perspective," said the American.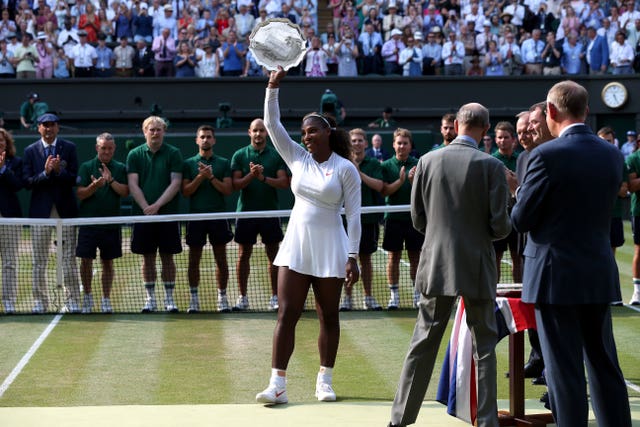 "I know that it's going to sting for a little bit here, but given where I was to where I'm at now, I'm blessed."
The consolation prize of finishing in a share of sixth is that he just squeezed into the world's top 50, earning a return to the WGC events, with one of his favourite courses at Firestone Country Club hosting the Bridgestone Invitational in Akron next in a couple of weeks.
Woods has won eight times on Firestone's South Course, accounting for almost one tenth of all his PGA Tour wins, with his most recent victory in 2013, but he has not played in any WGC events since 2014.
That gives him a further chance to sharpen his game – and improve his world ranking – and last year's Open champion Jordan Spieth believes his compatriot is now beyond the comeback stage.
"This wasn't a fluke. I think we've seen that throughout the year," said the 24-year-old, who was also in contention for a large part of the final round at Carnoustie.
"And he wouldn't tell you, but he's human, and experiencing that kind of pressure that he would have felt leading the Open on a Sunday is no different than anybody else, especially having not experienced it for so long.
"He obviously has good memories to draw on, but that was something he'll come back stronger from for sure."