Dillian Whyte moved closer to a dream shot at the world heavyweight title after dramatically securing a career-best victory over Joseph Parker at The 02 Arena in London.
The 30-year-old had accepted the risky fight in an attempt to force a rematch with his great rival Anthony Joshua or a shot at the WBC champion Deontay Wilder, and may never be a more worthy
challenger following his unanimous decision win in which he barely made the final bell.
A heavy knockdown in the final round and his exhaustion left him struggling to defend himself against the former WBO champion but after two earlier knockdowns of his opponent he was awarded
victory via scores of 115-112, 115-110 and 114-111.
Whyte has secured his finest victories since his only defeat, via stoppage by Joshua, in December 2015, but in New Zealand's Parker was confronted with an opponent known for his speed, mobility and chin.
He had succeeded in out-working or overpowering the 23 he had beaten before Saturday night, yet against the more polished Parker instead showed significantly improved technique to succeed
at range.
By largely resisting the brawl he had been promising, Parker was expecting to deny Whyte his greatest chance of success in his home city, but he struggled to succeed on the back foot in
the way that made him the only fighter to take Joshua the distance.
Even if on all but one of the occasions the Briton landed he was able to resist his power, he did not succeed consistently enough to sufficiently impress.
The opening round demonstrated the difficulty Whyte could potentially face against his 26-year-old opponent, whose speed advantage allowed him to succeed with the jab, and move in and out
of range.
He had been fortunate to be awarded a knockdown in the second during a tangle that caught Parker off-balance, but thereafter he gradually built an impressive lead.
Parker for several rounds became hesitant, fighting with the same lack of ambition, and perhaps belief, that had contributed to his defeat by Joshua.
Whyte consistently landed his jab and then in the fourth briefly forced him to exchange.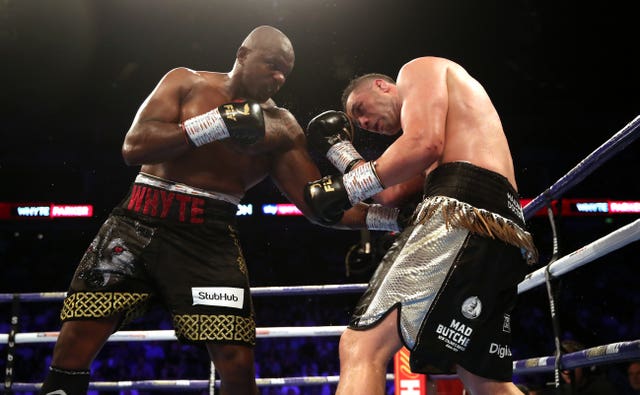 Landing a powerful left hook flush to the durable Parker's chin, he hurt his opponent in a way that Joshua never had, and to the extent that while he returned to his feet, there was little
sign of the way the New Zealander would finish the fight on top.
Parker first hurt him with a powerful right uppercut in the 11th round and then in the 12th, with both fighters struggling with fatigue, sent him to the canvas with a further big right hand.
Instead of working to survive, Whyte recklessly fought back, and may even have been rescued by the sound of the final bell.
Joshua had similarly struggled to stop Takam, who was controversially rescued on his feet in the 10th round of their WBA and IBF title fight last year without being knocked down.
After absorbing significant punishment up to the eighth, the 34-year-old Chisora produced a big right hand to send him to the canvas, and then another to secure victory when Takam, 37, returned to his feet.
Ireland's Katie Taylor also won inside the distance, stopping Kimberly Connor of America in the third round to defend her IBF and WBA lightweight titles.
America's Connor was struggling to defend herself after taking several powerful right hands, and was rescued on her feet by the referee as she fell to her fourth professional defeat.