Keaton Jennings insists Virat Kohli was entitled to celebrate however he wanted after pulling off the brilliant run-out of Joe Root which turned day one of the first Specsavers Test in India's favour.
Kohli did not hold back, after his direct-hit throw on the turn ran Root out for 80 and broke his fourth-wicket stand of 104 with Jonny Bairstow (70) in England's 285 for nine at Edgbaston.
The India captain blew his opposite number a kiss, put his finger to his mouth, appeared to summon some choice words – and also reminded Root of his own 'mic-drop' gesture after his second successive century had clinched the one-day international series for England.
Root admitted to immediate regret at dropping his bat to the floor on his home ground last month, and Kohli appeared more than happy to reference it as the Yorkshireman's departure kick-started the loss of six wickets for 67 in the final session on day one of England's 1,000th Test.
Jennings had earlier helped Root put on 72 for the second wicket, but was long back in the pavilion by the time the captain was short of his ground answering Bairstow's improbable call for a second run to midwicket.
"Everybody is entitled to celebrate how they want to," said Jennings. "He celebrated, and that's cool."
It remains to be seen whether match referee Jeff Crowe takes the same view, or decides instead some censure is in order for Kohli.
As for relations between Root and Bairstow, Jennings confirmed no hard feelings – despite the former's obvious annoyance at losing his wicket through little fault of his own, again short of an elusive 14th Test hundred.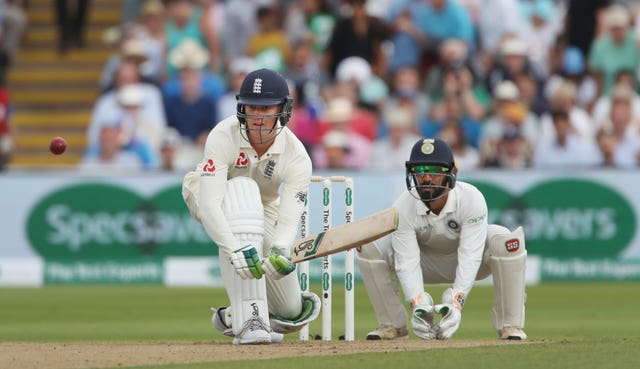 "It's down to them to shake hands, have a beer tonight and sort it out."
Asked if England were disappointed with their close-of-play score, Jennings said: "Yes and no.
"It has been a little bit of a missed opportunity for us. But then you look, after 85 overs with an old ball, there still seems to be quite a lot of lateral movement.
"Day one, you look at the amount of movement there has been from the seamers all day… Virat didn't take the second new ball, and the ball was still going sideways.
"So from our point of view, we've got [nearly] 300 on the board – and if we can come out and be pretty relentless tomorrow, you don't actually know what a good score is until both sides have batted."
Jennings himself had no truck with the idea a rogue pigeon distracted him the ball before he was out, a little unluckily, playing on to Mohammed Shami.
He preferred instead to give Root due credit for his 156-ball contribution.
"Having batted with him today, he's taught me a hell of a lot – which is awesome, just to watch a master at his work. He's a fantastic player, fantastic guy."
Ravi Ashwin, chosen as India's only spinner, finished with four for 60 – and his seam-bowling team-mate Shami has no issue with the tourists' selection.
"You can't say that we will miss an extra spinner," he said. "We have to play with what we have got, believe in the team selection – and work harder… without thinking of what you are missing."