Virat Kohli's brilliant century was an "eye-opener" to Sam Curran on the day the young England left-armer proved he too has the ability to be a match-winner in Test cricket.
Curran (four for 74) took three wickets in eight balls at one stage, but Kohli's crucially was not among them as the India captain instead hit 149 to drag India right back into contention in the first Specsavers Test at Edgbaston.
The tourists recovered from 100 for five, and then 182 for eight, to reach 274 all out and therefore concede a lead of only 13 runs to England, who then stumbled to nine for one after losing Alastair Cook to the last ball of day two.
England's 20-year-old seamer understandably had mixed feelings in just his second Test.
"Credit to a great innings there," he said.
"That's what Test cricket is about, you play against the best players.
"I'm only in my second game, but I think it was a little eye-opener for me, watching the way he bats and how precise you've got to be with your lengths (to him)."
As for his own performance, Curran said: "Personally, it was a pretty special day for me with the ball.
"Coming on and taking a few early wickets, I can't really remember it, it was so unreal.
"Obviously, it's massive for me.
"In my first Test a couple of months ago against Pakistan, I was probably a little bit nervous.
"To get some wickets here, I felt like I was running in at The Oval for Surrey – I forgot about what I'm actually doing, and just stuck to what I'm good at."
England were powerless to stop Kohli, although he was twice dropped in the slips – on 21 and 51.
"We had them 100 for five, and felt in the game, then Virat played really well with their tail and frustrated us a little bit," said Curran.
"But he did nick a lot of balls outside off-stump that didn't carry as well.
"No one means to drop catches, and on another day they would be taken.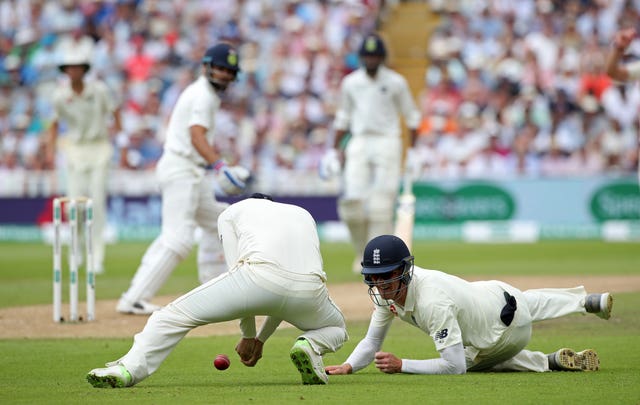 Curran is delighted to find himself in the thick of such a gripping match.
"Everyone (here today) got what they paid for, it's going to be a great Test," he said.
"We've just got to bat big tomorrow, get as many runs as possible day three and day four, and put pressure on India, especially with the wicket starting to go up and down a little bit, and a bit of spin."
Kohli had let the bat do his talking as he set the record straight so emphatically after averaging only 13.4 and mustering a tour aggregate of 134 runs on his only previous Test tour of England four years ago.
"His innings has narrowed the gap massively between the two teams," said Bangar.
"At one stage we were staring down the barrel, and the gap was huge, but because of his brilliance and the commitment shown by the batsmen around him, it's still even.
"Virat had to play through various phases where run making wasn't that easy.
"But he showed terrific discipline. The way he batted with the tail was a lesson in itself."