Great Britain enjoyed a brilliant night in the pool as they won two gold medals at the European Championships in Glasgow.
Georgia Davies clinched the women's 50metre backstroke title before the men's 4 x 200 freestyle relay team finished the evening with a brilliant win.
Duncan Scott – who was part of the relay team alongside Calum Jarvis, Thomas Dean and James Guy – also won an individual silver, while home favourite Ross Murdoch was among those who qualified for a final later in the week.
It was a stunning performance from the men's team, with Scott and Guy in particular producing stunning legs to see them mark a new championship record of 7 minutes 05.32seconds and beat Russia to the top of the podium.
"It was really good," the 21-year-old Scot admitted with his gold medal around his neck. "The 100m free, it was really good to progress with each round and to top it off with the 4 x 200m was amazing."
The men's gold was GB's third in the pool already at Tollcross, and a sixth overall following further success at the Sir Chris Hoy Velodrome, and Scott was pleased to give the home crowd further reason to celebrate.
"You can sense the atmosphere and feel the noise, if that's possible," he said. "Walking out was incredible with the crowd behind us.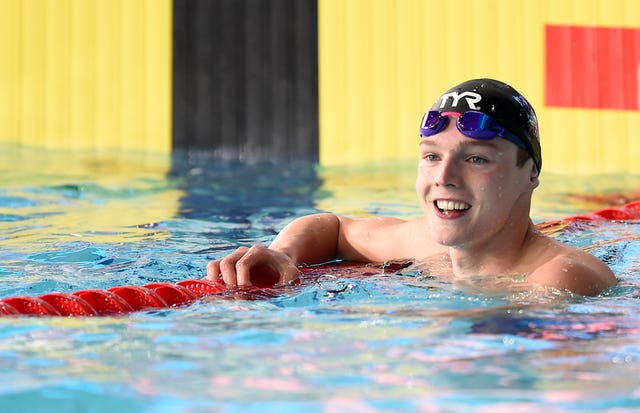 "Last night (Saturday) we had some unbelievable swims and to back that up with this was really good."
Davies kicked things off earlier in the day by pipping Anastasiia Fesikova by 0.08 seconds in the backstroke on her return to the Glasgow pool where she won Commonwealth gold four years ago and she has put her victory down to experience.
She said: "I have so many fond memories from here, I think it's all the home comforts and the home crowds.
"I didn't mind about the time tonight, I just wanted to win and I'm so pleased I managed to.
"Mentally I'm becoming more calm and relaxed when it comes to racing and trying to enjoy myself more.
"I still get nervous when I race, but I used to let those nerves hinder my performance and now I'm trying my hardest not to, and I think that has come with age."