Stan Kroenke has moved a step closer to completing a full takeover of Arsenal after minority shareholder Alisher Usmanov accepted an offer worth in excess of £550million for his stake.
American businessman Kroenke currently owns 67 per cent of the Gunners through his company Kroenke Sports and Entertainment and has offered to purchase the 30.04 per cent held by Usmanov's Red and White Securities firm, valuing the Premier League club at £1.8billion.
KSE says it has received an "irrevocable undertaking" from Red and White Securities to accept the offer as soon as possible, and in any event by 3pm on Tuesday, with each share valued at GBP29,419.64p
The move has been met with widespread derision from Arsenal supporters, many questioning the timing of the offer – just three days before the start of the new Premier League season.
In a statement published on the London Stock Exchange, Kroenke said: "We at KSE are moving forward with this offer leading to 100 per cent ownership of the club.
"The successful implementation of the offer will result in the opening of a new chapter in the history of the club in bringing 100 per cent private ownership by KSE.
"KSE believes moving to private ownership will bring the benefits of a single owner better able to move quickly in furtherance of the club's strategy and ambitions. KSE is a committed, long-term owner of the club."
It read: "Red and White Holdings Limited ("Red and White") today confirms that Mr Alisher Usmanov has given an irrevocable undertaking to KSE, UK, Inc. to accept the Offer in respect of Red and White Securities' entire holding of 18,695 Arsenal Shares (representing approximately 30.05 per cent) for an agreed price of £29,419.64 per share in cash valuing Red and White Securities' stake at just over £550 million."
Usmanov added his own brief words but did not clarify the reasons behind his decision.
"I have decided to sell my shares in Arsenal Football Club which could be the best football club in the world," he said.
"I wish all the best and great success to this wonderful football club and to all those whose lives and careers are entwined in it."
Meanwhile, the Arsenal Supporters' Trust has voiced several concerns over the potential takeover in a strongly-worded statement of its own.
"This news marks a dreadful day for Arsenal Football Club," it read.
"Stan Kroenke taking the Club private will see the end of supporters owning shares in Arsenal and their role upholding custodianship values.
"The most dreadful part of this announcement is the news that Kroenke plans to forcibly purchase the shares held by Arsenal fans.
"Many of these fans are AST members and hold their shares not for value but as custodians who care for the future of the club. Kroenke's actions will neuter their voice and involvement.
"The AST is wholly against this takeover.  Arsenal remains too important to be owned by any one person."
Within two hours of the announcement the phrase '#KroenkeOut' was trending on Twitter in the United Kingdom.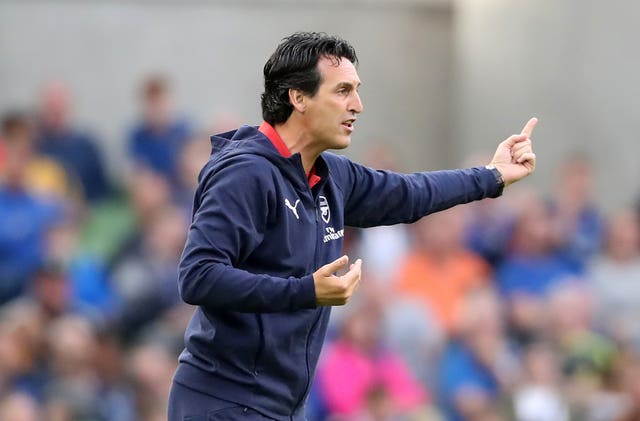 The Gunners last won the Premier League title in 2004 and last season finished sixth, 37 points behind champions Manchester City, who they face in their opening game of the season on Sunday.
Unai Emery was appointed manager in May after the club said farewell to Arsene Wenger after 22 years in charge.