Max Whitlock watched Adam Peaty blaze to his latest world record and admitted feeling frustrated that he will always be denied such historic sporting moments of his own.
Double Olympic champion Whitlock starts his campaign at the European Championships in Glasgow on Thursday, returning to the same Hydro venue where he won his first world title in 2015.
But since gymnastics scrapped its famous 10-point system in 2006, Whitlock's own quest for perfection has been measured in decimal points – which he believes has denied his sport's latest stars the same iconic moments afforded their predecessors.
Whitlock said: "It's quite gutting when you look at how world records are recognised in sports like swimming. We don't have world records and we don't even have anything like personal bests.
"With the 'perfect 10' it was very easy and that's why people still remember names like Olga Korbut – if gymnastics is as popular as it's ever been right now, why are people still remembering those names?
"It must have been huge back then because it was so simple to follow. You aim for the 'perfect 10' and if you get 9.9 you're getting close to it. Now you're scoring 15.6 or 14.225, and it's too hard to understand.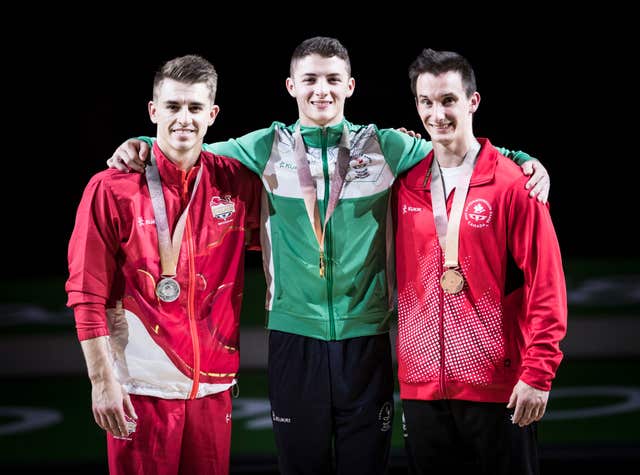 Whitlock's frustration is palpable given his evident desire to measure himself against the greats of his sport, but his single-minded quest means he will not be driven by a desire for any kind of redemption after his Gold Coast disappointment.
Like Peaty, who suffered his first loss in four years in the men's 50m breaststroke, Whitlock had to settle for silver on the men's pommel after being eclipsed by Ireland's rising teenage star Rhys McClenaghan.
Whilst acknowledging McClenaghan's ascent, Whitlock's intentions are more long-term as he continues to contemplate his options towards Tokyo 2020 – and strive for the kind of routine that might have earned him a perfect mark in the sport's golden era.
"I don't think so," admitted Whitlock when asked if he had ever nailed a 'perfect' routine. "I even look at Rio and there are things I want to improve.
"That's why what anybody else does is irrelevant. I have to focus on continuing to push and not standing still."